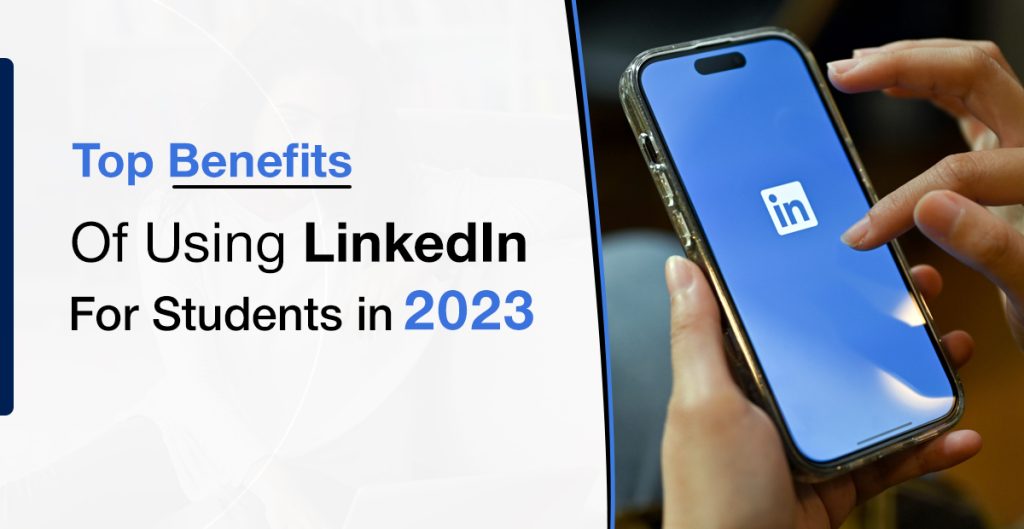 Top Benefits of Using LinkedIn for Students in 2023
As we enter the new era of digitalization, students are continually looking for ways to stand out in the competitive job market. One amazing tool that can help students grow and has gained popularity recently is LinkedIn, the professional social media platform. LinkedIn offers students a platform to network, exhibit their skills and achievements, and search for open job positions. Intrigued enough? In this article, we'll tell you some of the main benefits of using LinkedIn for students in 2023.
Recommended: How do I choose the Best PPC Training Institute
Benefits of Using LinkedIn for Students and Freshers
1: Build your Professional Network
LinkedIn is an astounding platform that enables students to build their professional networks easily. Students can associate with people already working in their field of interest, potential mentors, graduated alumni from their college, and other experts in their industry. Building a professional network is important for students as it permits them to acquire insights into their field, learn from experienced experts, and make valuable associations that can prompt future job opportunities.
One way to build your professional network on LinkedIn is by joining LinkedIn groups. There are groups for pretty much every field, including finance, marketing, and technology. Joining a group helps you connect with different professionals in your field, clarify all your present doubts, and share insights.
Related Topic: Reasons Why Content Writing Career is a Wise Choice
2: Highlight your Skills and Achievements
LinkedIn is a site where students can display their talents and accomplishments. Students can develop a complete profile for themselves that includes everything from their schooling to job insights and volunteer experience to all of the primary abilities that they possess. It is critical to maintain your LinkedIn profile with all current events and experiences from your working life.
In addition, students can also make use of LinkedIn to share details about their achievements and projects that they've worked on. This sharing of accomplishments within a professional circle helps students display their skills and abilities to potential employers and businesses. It is fundamental to have a strong LinkedIn profile that highlights your abilities and achievements to increase your chances of being noticed by potential employers.
3: Research Potential Employers
One of the upsides of utilizing LinkedIn is that it gives you the choice to research potential managers and employers. You can use LinkedIn to research the companies or people you are enthusiastic about working for. By doing intensive exploration and research on the company or businesses, students can gain critical knowledge about the company's culture and work environment. This can help students decide whether the organization is good for them or not.
Furthermore, LinkedIn allows students to see who they are linked with at the organization. This information can be really useful when applying for a position, as students can ask their connections for information or advice about the organization.
Also Read: What is ChatGPT? Is it Important for SEO?
4: Assists in Job Hunting
LinkedIn is an astounding platform that assists students in hunting for open work positions. Businesses frequently use LinkedIn to post employment opportunities, making it a great platform to look for jobs in your field of interest. Students can look for jobs by industry, area, and job title.
Apart from looking for jobs, students can likewise set up job alerts on LinkedIn. These alerts permit students to get notifications when jobs matching their criteria are posted on the platform. This feature is particularly useful for students who are actively searching for open positions.
Tech Read: Learn How Split Testing Can Optimize Your Digital Marketing
5: Acquire Industry Insights
LinkedIn is a brilliant platform for students to acquire insights into their desired industry. Students can follow thought leaders and influencers in their field to find out about industry patterns, news, and best practices. By following industry pioneers, students can stay updated on the most recent developments in their field and gain important insights that can help them in their future careers.
Besides, LinkedIn furnishes students with an abundance of industry-explicit content. Students can go through articles, view recordings, and listen to podcasts on a variety of connected topics. This content can assist students in expanding their expertise and skills, making them more competitive in the gig economy.
Addon Read: Tips for Learning SEO Without Breaking the Bank
Conclusion
LinkedIn is a phenomenal platform for students hoping to stand out in a jam-packed industry. Students can take full advantage of LinkedIn's abilities by developing their professional network, showing their talents and accomplishments, looking for new work opportunities, investigating potential employers, and acquiring industry knowledge. Students can boost their chances of gaining desired career prospects by utilizing LinkedIn to its full potential. Whether you're simply beginning or going to graduate, right now is an ideal opportunity to make or update your LinkedIn profile and start growing your professional network. With a touch of hard work and perseverance, you can receive the many rewards that LinkedIn gives to its clients and advance your professional career.