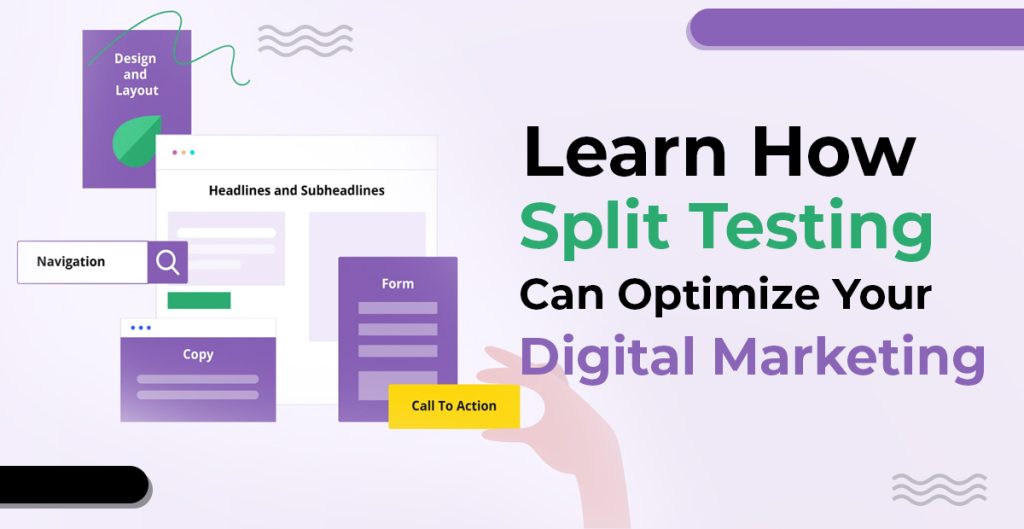 Learn How Split Testing Can Optimize Your Digital Marketing
In this age of digital marketing, organizations need to remain updated in order to stay ahead of the game. Split testing is a technique that assists Organizations in improving their digital campaigns and sites by testing various variations of their content. This is a simple yet useful way that can assist organizations in further developing their conversion rates, reducing bounce rates, and ultimately driving more revenue. So, in today's article, we've decided to let all our secrets out about split testing. We'll clear all your doubts associated with split testing and help you find the winning formula for your ultimate business growth.
What is Split Testing?
Split testing, otherwise called A/B testing, is a technique of testing two or more variants of a web page, ad, or email against one another to figure out which one performs the best. Split testing permits advertisers to experiment with different things using various factors, including images, calls to action, headlines, and copy, to see which one drives the most conversions.
The process of split testing is very simple. Marketers make at least two versions of similar resources, each with a slight difference in at least one component. For instance, two distinct titles may be tried against one another to see which one performs better. The test is then run for a certain timeframe, during which the performance of every version is measured. The version that plays out the best is then used as the primary version moving ahead.
Steps to follow for Split Testing your next project:
Split testing is a useful technique, however, it's vital to follow a well-defined process to guarantee measurable outcomes. Here are the steps that you need to follow for your next split-testing project:
1. Define Your Objective:
The most vital phase in any split testing project is to define your objective. What are you attempting to accomplish? Would you like to reduce your bounce rate, improve your click-through rate, or increase your conversion rate? When you have a clear-cut objective as your top priority, you can make versions of your resource that are intended to accomplish that objective.
2. Identify Your Variable:
The next step is to recognize your desired variable to test. This could be anything from the title of your page to the shade of your call-to-action button. Ensure that the variable you pick is relevant to your objective and that you have measurable analytics about how it will affect your performance.
3. Generate Your Versions:
After clearly identifying your objective and variable, now is the right time to make your versions. You have to make two identical yet different versions of your resource, each with a slight variation in the picked variable. For instance, if you're trying the colour of your call-to-action button, you could make one version with a green button and one with a red button.
4. Decide Your Sample Size:
Before you begin your test, you have to decide your sample size too. This is the number of users or visitors that will do the testing for you and will be included in the test. The bigger your sample size, the more precise your outcomes will be. Go for a size that is measurably possible for your objectives.
5. Begin Your Testing:
With your versions and sample size set up, now is the time to begin your split testing. Ensure that you are closely following the performance of every version of your resource using a tool like Google Analytics. It is also necessary to run your test for a defined timeframe to guarantee that you are gathering an adequate amount of data for analysis.
6. Analyse Your Outcomes:
When your test is finished, now is the time to analyse your outcomes. Investigate the performance of the various versions of your asset. Then, at that point, sort out which one played out the best. Ensure that your results are genuinely supported and your outcomes rely on serious areas of strength.
7. Implement The Winning Version:
The last step is to implement your winning version. You should use the results of your split test to finalise your digital campaign or website component. You can likewise keep on split-testing different factors to additionally enhance your performance.
Split testing is a useful technique that can assist organizations in improving and enhancing their digital campaigns and sites. By following a simple process, organizations can test various versions of their content to figure out what turns out best for their crowd. Whether you're attempting to build your conversion rates, reduce bounce rates, or improve your click-through rates, split testing can assist you with accomplishing your objectives. By defining your goal, identifying your variable, generating your versions, deciding your example size, beginning your test, analysing your outcomes, and executing your winning versions, you can use split testing to enhance your digital assets and work on your bottom line. However, it's important to keep in mind that split testing is a continuous process. As your audience changes and your business develops, what works today may not work tomorrow. By persistently testing and streamlining your content, you can remain ahead of your competitors and accomplish your digital marketing objectives.
All in all, split testing is an amazing asset that should be a part and parcel of each and every digital marketer's tool compartment. By following a simple process and testing various versions of your content, you can further develop your digital marketing strategies, and at last drive more income. So the next time you launch a digital campaign or make another website page, consider split testing to guarantee that you are delivering the most ideal content to your audience.