Best PPC Course Training Institute in Delhi-NCR
Internet Scholars is a highly sought-after PPC internship and course training institute in Delhi, NCR. We offer a wide range of PPC courses designed to help you excel in competition and stay ahead of all your competitors in this highly dynamic world. Our expert and highly experienced PPC trainers in Delhi, NCR will educate and guide you about the best tools, techniques, and strategies for PPC so you can stay ahead for all your competition.

Our Pay Per-Click course is highly comprehensive and we ensure to empower you with the best of industry knowledge, PPC skills, and knowledge of PPC tools and techniques, so you are ready to face the competition out there and excel. After completion of the course and PPC internship with Internet Scholars, you will discover a more confident and able you who is ready to manage any PPC campaign effectively and successfully. Whether you are someone with no idea of PPC or a professional looking to further sharpen your axe, we can help you achieve your goals. Our PPC courses are designed bearing in mind different levels of learning for students – from beginners to experienced professionals. Experienced and competent trainers at Internet Scholars will teach you PPC – from beginning to advanced levels. Internet Scholars employs a team of highly skilled and capable trainers to teach students all important aspects of pay per click management.
Free PPC Course Training Session
Sign up Below, Limited Seats are Available
About Course
PPC Syllabus and Content
An Overview
An introduction to PPC marketing
Why is PPC needed?
How can PPC help your business grow fast?
Google Ads and Adsense
PPC programs
PPC comparison across Google, Bing, Yahoo, and MSN
Google Ads structure
PPC campaign setup
Google Ads account structure
PPC campaign setup
Structure of Google Ads account
How to set up a PPC ad group within a campaign?
Using MCC (My Client Center)
CPM, CTR, CPA
Meaning of impression
How to create effective ads?
Cost/conversion
How to boost conversion and click through rates?
Introduction to tracking code
Understanding research and analysis
PPC keywords research
Understanding the importance of target audiences and targeted keywords
Setting up PPC keywords considering geographical location
Competitors' keywords analysis
How to find the popularity of keywords
Finding keywords' local and global search volumes
How to categorize your PPC ad campaign to Ad groups
Tools and resources for keywords
Creating effective and powerful ad groups and ads
Unique titles and limits of characters
Title, description URL measurement
Create ads that generate a greater return on investment
Competitors' keywords analysis
Learn by examples of successful PPC ad campaigns
Destination URLs and landing pages creation
Introduction to bidding management
Learn about PPC quality score
Impact of quality score on rankings and bids in PPC
How to improve search position?
How to bid for an ad position?
Define bid for keyword & bid management
Google automatic bids and user-defined bids
Significance of bidding techniques in PPC
Competition analysis for PPC bidding
Introduction to landing pages
Landing pages versus ads
Significance of landing pages
Landing page optimization
What is CTR (Click-Through-Rate)?
Use CTAs (Call to Action)
Conversion/cost
Reports of campaign performance
Reports of keywords performance
Reports of ad group performance
Reports of PPC ad performance
Google Ads tool
Google Adword Editor
Keyword spy
Courses Duration
Choose a Course and Get Started
PPC Course Fee and Duration

| | | | |
| --- | --- | --- | --- |
| Track | Regular Track | Weekend Track | Fast Track |
| Course Duration | 45 – 60 Days | 8 Weekends | 5 Days |
| Hours | 2 hours a day | 3 hours a day | 6+ hours a day |
| Training Mode | Live Classroom | Live Classroom | Live Classroom |
Why Should You Choose
Internet Scholars for PPC Training?
If you want to learn PPC from industry experts and you are looking for the Best Course Training Institute in Delhi-NCR, Internet Scholars is the right choice for you.
We are immensely proud to have some of the brilliant PPC experts as our PPC course trainers. These instructors bring along years of experience in teaching Pay per Click and other digital marketing subjects to students, professionals, and individuals looking forward to a bright and rewarding career in the PPC and digital marketing domain. Some of the reasons why you should choose PPC course training at Internet Scholars include:
Extensively experienced PPC course trainers
Proven track record in teaching PPC and digital marketing
Learn about the latest PPC tools
Learn about the latest techniques and trends in PPC
We provide personality development and grooming training to students so that they are ready to face and crack interviews when they go out in the corporate world
Great learning environment for students
Well-equipped, fully furnished classrooms with basic amenities that make learning easy
Basic Queries
Frequently Asked Questions
(FAQ)
PPC stands for pay-per-click which is a kind of internet marketing wherein advertisers pay a stipulated fee each time their ad (one of the ads) gets clicked by the user. So, you pay only for the ads that are clicked upon and not for the ads that are not clicked on.
Advanced pay-per-click training course at Internet Scholars is designed to help you become a confident and able paid marketing professional. Our PPC certification course is designed by industry experts and features a clear path of learning. With PPC course training at Internet Scholars, you can accelerate your digital marketing career and achieve your desired growth with great exposure and hands-on experience in managing effective and successful PPC campaigns.
Join our PPC internship programs and practice the PPC skills that you learn in the classroom.
Internet Scholars offers basic to advanced PPC course training programs that you can join to learn PPC.
PPC Training course is important for agencies and small businesses that don't have a dedicated digital marketer (in-house) for business promotion in the digital sphere. Agencies can benefit immensely from our Best PPC course training at Internet scholars for training their employees with proven expertise in other channels of marketing including SMO, SEO, and content marketing. If you are a digital marketing professional and want to improve your knowledge and expertise, the PPC course can be a great choice.
Read More

Career Guidance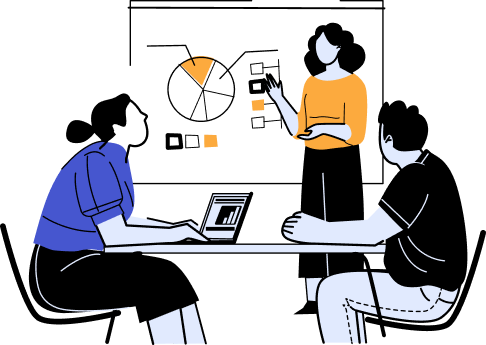 – Create an Impressive Resume
– Get Professional Assistance for Interviews
– Attend Mock-Up Interview Sessions
– Get Interviews & Get Hired
– Become a Part of Top Rated Organizations
FOR QUERIES, FEEDBACK OR ASSISTANCE
Contact Internet Scholars Learner Support
Best of support with us