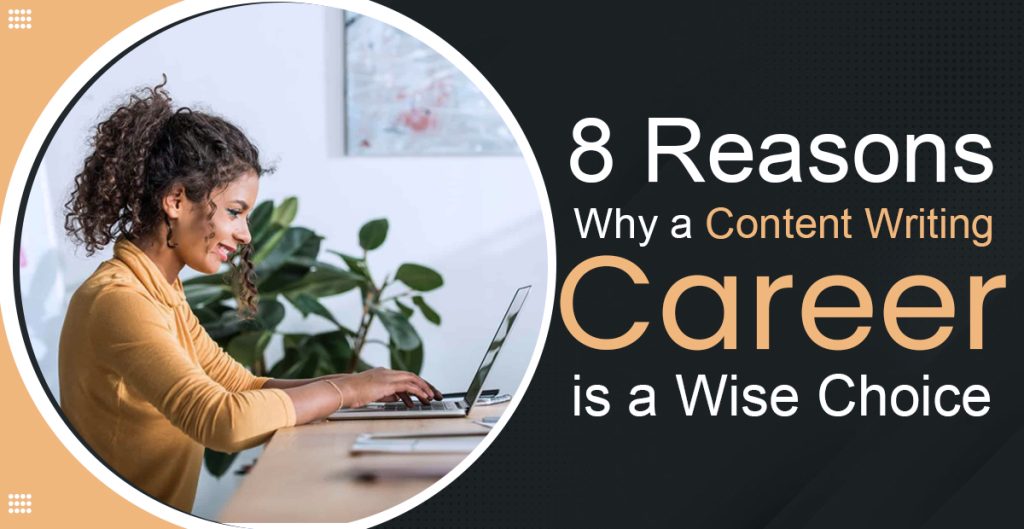 8 Reasons Why a Content Writing Career is a Wise Choice
Are you considering a career in content writing? If so, you may be wondering if it's the right decision for you. Content writing is an increasingly popular career choice, and there are many good reasons to pursue it.
In this blog post, we'll discuss 8 reasons why a career in content writing is a wise choice. From gaining valuable writing experience to having the freedom to work remotely, content writing offers a variety of unique benefits. So, keep reading to discover why content writing could be the ideal career path for you.
Here are 8 Reasons to know the Important of Content Writing Career
1) There is a lot of demand for content writers
As Digital Marketing and Technology continue to grow, the demand for content writers is increasing. Content writing is one of the most in-demand fields for job seekers looking for a career in writing. 
With the rise of digital media, businesses now require well-written, compelling, and informative content to engage their customers and increase visibility online. As a result, there is a high demand for content writers to create content that will inform, educate, and engage audiences. Whether you're a freelancer or working in-house, content writing can be an excellent career option as there are many opportunities available in this field.
Content writers are needed to write web copy, blog posts, product descriptions, case studies, white papers, press releases, social media posts, and more. Companies also need content writers to craft and maintain the tone of their brand, making sure that all their materials reflect the same message and create a consistent presence online. With so much content required across all types of platforms, there is no shortage of work for content writers, making it an ideal career option for anyone looking for a job in writing.
Top Content Writing Course Suggested by the Editor.
2) The Pay is good
One of the biggest reasons to consider a career in content writing is the potential for good pay. Content writing is a field where you can make good money quickly. According to ZipRecruiter, the average content writer salary is around $52,000 per year. That's a decent salary, especially for those just starting out.
Further, there is the potential to make even more money as you gain experience and take on higher-paying projects. Experienced content writers can make upwards of six figures. So if you're looking for a way to make some good money without spending years in college, then content writing might be the right career for you.
Content Tips to make your Content Strategy go from Good to Great
3) You can work from anywhere
One of the best benefits of content writing is that it allows you to work from anywhere. All you need is an internet connection and a computer, and you can work from home, a café, or even while traveling. You can also choose to work remotely and avoid the hassles of commuting to and from the office. As long as you have access to the right tools and resources, you can get the job done anytime, anywhere. Content writing offers the perfect balance between flexibility and productivity. (Why Content Writing Career?)
4) It's a relatively easy field to get into
If you have an interest in writing, then content writing is definitely a good career choice for you. Content writing doesn't require any special qualifications or educational background. You can easily get started on your own and learn the necessary skills as you go along. All you need to do is master the basics of writing, such as grammar and spelling. You will also need to be familiar with various online tools and platforms that are used to create content.
With the growth of digital media and an ever-increasing demand for content, more and more companies are looking for writers to create content for them. This means that there is a wide range of job opportunities available for content writers, ranging from copywriting and blogging to social media management and web content creation.
Content writing is a great option for those who want to make a living out of something they love doing. If you have a passion for writing, then content writing is a great way to make a living while doing something you enjoy. With the right skills and a willingness to learn, you can easily get started as a content writer and make a successful career out of it. (Why to Choose Content Writing Career)
Recommended: Top 5 Digital Marketing Institutes in East Delhi
5) Exposes to the world of knowledge
Content writing provides a unique opportunity to explore a wide range of topics and gain knowledge on various subjects. If you have an inquisitive mind and love to learn new things, content writing is the perfect career option for you. As a content writer, you will be expected to research topics and use the information you find to create interesting and engaging content.
This way, you can learn about anything from politics to travel, from science to history, and from fashion to finance. Content writing is also a great way to stay up-to-date on current events and trends. By staying informed about what's going on in the world, you can produce content that is more relevant and appealing to readers. Furthermore, content writing gives you the chance to discover new and innovative ways of looking at things, which can help you become a better writer overall.
Also See: Content Calendar Guidance
6) Gateway to other opportunities apart from regular jobs
Content writing offers the potential for many other career opportunities. It can serve as a gateway to a variety of roles, from copywriting and editing, to social media management, or even content strategy and marketing. Content writers can become brand ambassadors, curate content for websites, or create content for television, radio, or print media. For those looking to build a career outside of the traditional 9-to-5 job, content writing is an ideal option.
Content writers are also perfectly positioned to take advantage of freelance opportunities. Freelance writing is an excellent way to make a living while allowing you to set your own hours and work from anywhere in the world. With the right skills and experience, you could be running your own content writing business in no time.
Finally, content writing can serve as a springboard into other fields. The knowledge and experience gained from content writing could open up opportunities in areas such as technical writing, copywriting, web design, and more. So if you're looking for an opportunity that has the potential to become much more than just a job, then content writing could be the perfect choice for you. (Content Writing Career Good?)
7) You can work in many different Industries
Content writing is a versatile career, which can provide you with endless opportunities to express your creativity. Content writers can work in many different industries, such as healthcare, travel, finance, technology, marketing, education, and more.
If you want to specialize in one particular industry, you can always choose to focus on that industry and become an expert in it. This can be a great way to build your credentials and make yourself more attractive to potential employers or clients.
You can also use your skills to create content for multiple industries at once. By being flexible and open to working with different companies, you can increase your earnings potential. This is a great way to diversify your portfolio and increase your earning potential.
The best part about content writing is that there is no limit to the types of industries you can work in. As long as there is a demand for content in that industry, you can be sure to find work. Whether you want to write about fashion, finance, or travel, there will always be an outlet for you to pursue a career in content writing.
Career Tip: Learn Advanced Digital Marketing Course
8) You can easily freelance or work for a company
Content writing is an incredibly flexible career, and you can choose to pursue it in a variety of ways. Whether you decide to freelance, or seek employment at a company, there are plenty of options for you to explore.
Freelancing is great for people who want to be their own boss, set their own hours, and work from wherever they please. There are lots of platforms out there that will help you find gigs and get paid. Upwork, Fiverr, and Freelancer are some of the most popular sites. Plus, with freelance jobs, you get to choose your clients and rates. This can be really beneficial if you want to target certain industries or specialize in a specific area.
If you'd prefer to have a steady paycheck and set hours, then you might want to look into a job with a company. You can often find openings for content writers on job boards, but many companies also hire internally. This could be a great way to start your career in content writing, since having a foot in the door could open up more opportunities down the line. Plus, working at a company usually comes with benefits such as healthcare and vacation time.
No matter what route you choose to pursue, content writing is an excellent career option. With the right skills and determination, you can make a successful career out of it. (Get Content Writing Career Guidance)
Conclusion
Content writing is an excellent career option for many people. It offers a great opportunity to earn a good income, without the need for a college degree. You can work from anywhere, learn about different industries and find opportunities that you may have never known existed.
With the demand for content writers increasing, now is a great time to get into this field. Whether you choose to freelance or work for a company, content writing is a great way to make a living and have the flexibility to do what you love.
Few Helpful Links:
Content Writing as a Career option