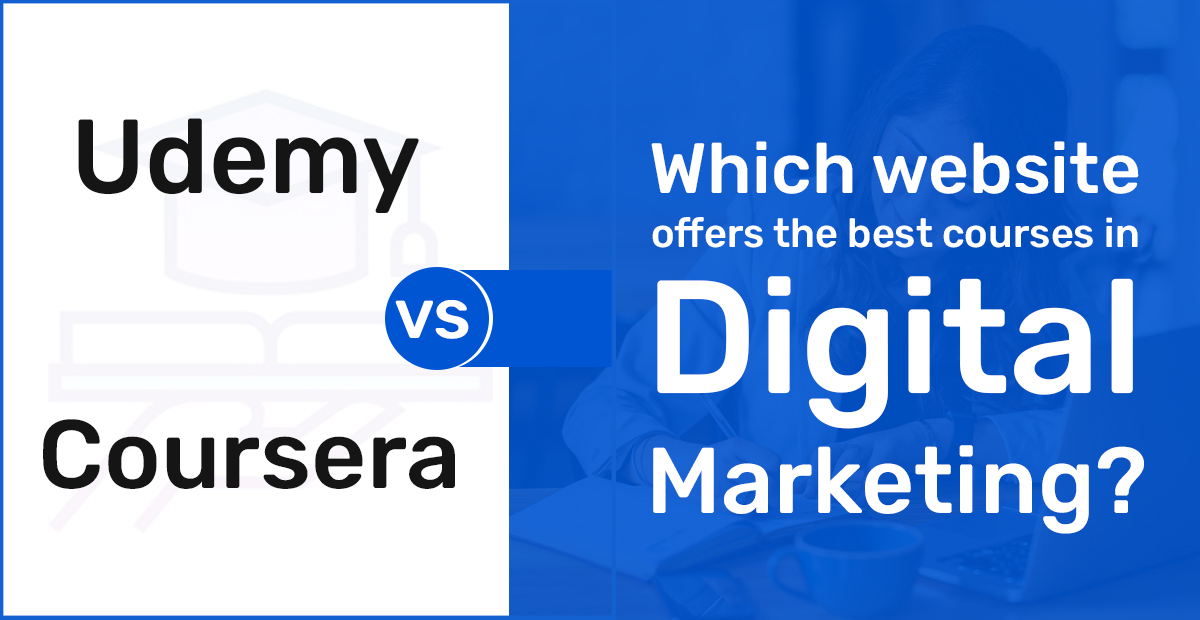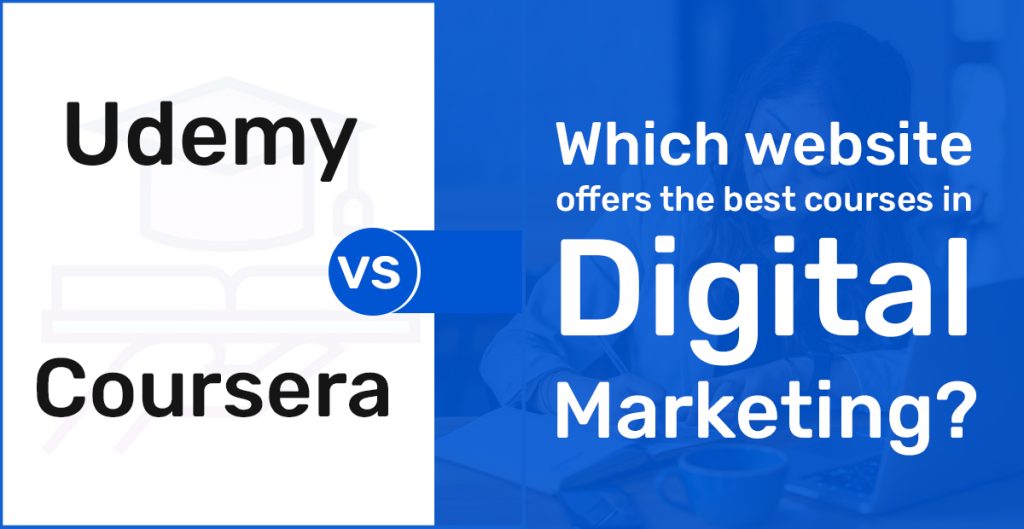 Udemy vs Coursera: Which website offers the best courses in Digital Marketing?
This Articles explains about two ed-tech giants Udemy vs Coursera.
Choosing the best online Digital Marketing courses for yourself can be a real hassle, especially when there are so many websites offering tons of courses in the same field. But out of all those websites, there are two most favorable websites that almost everybody is familiar with – Coursera and Udemy.
Coursera and Udemy both offer good courses, whether they are paid or unpaid. One might desire to take a course and spend hours researching various websites and watching YouTube videos to determine which website and course would be best suited. This article will save you valuable time by helping you with which websites you can choose, to pursue a course in Digital Marketing.
Let's analyze Udemy and Coursera based on the digital marketing courses they offer by analyzing various parameters.
Udemy vs. Coursera – Which is Better for Online Digital Marketing Training?
Udemy offers a range of courses in Digital Marketing that can provide you with good fundamental knowledge of digital marketing concepts and, at the same time help you boost your CV. Udemy has up to 64 million learners enrolled in various courses. It has up to 210K courses in 75 languages. The numbers are quite huge!
Coursera is a global online learning network that provides people with access to online courses and degrees from renowned institutions and corporations. Coursera offers a total of about 5,400 paid and unpaid courses. It has over 129 million students enrolled in various courses. The numbers are comparatively bigger than Udemy!
Let's look at whether the numbers suggested by both websites are worth paying for or not.
Related: Why You Must Enroll for a Top Digital Marketing Course
Udemy vs Coursera: Which one to opt for Learning Digital Marketing?
1. Price and Reasonability
Udemy:
In terms of prices, the starting price of Udemy's digital marketing courses is INR 549. Which is quite reasonable. The quality that Udemy provides even at such low prices is absolutely justifiable. The modules that you unlock by paying this amount are quite extensive.
Coursera:
The starting price that you will have to pay in order to unlock the courses is high in comparison to Udemy. It offers digital marketing courses starting at INR 772 per month. However, we cannot really judge the quality of the courses solely based on the prices. It is always wise to read the reviews before enrolling in any course to know if that course is worth paying for or not!
Recommended: How to Get Digital Marketing Training in Hindi
2. Quality of Instructors
Udemy:
There are six renowned Udemy instructors who excel at providing top-notch digital marketing courses: Robin and Jasper, Phil and Ebiner, Pouya Eti, Diego Davila, Alan Sharpe, and Pavel Brecik. Among these experts, Diego Davila has an impressive student enrollment base of over 800,000. While Udemy has numerous instructors offering digital marketing courses, if you're seeking the absolute best for your learning journey, these instructors are undoubtedly worth considering. It's important to keep in mind that Udemy has a relatively small selection of instructors who are proficient in digital marketing.
Coursera:
When it comes to Coursera you will find many good instructors offering courses in digital marketing. There is no list of popular instructors since almost every instructor is pretty proficient in the field of digital marketing. In the case of Coursera, you have many options you can choose from which were not there in the case of Udemy. Coursera might be offering fewer courses in Digital Marketing but the quality that it delivers is worth paying for!
3. Certifications and Accreditations
Udemy:
On successful completion of any course that you are enrolled in, you will get a certificate. But be sure that you will not receive certificates on the completion of free courses. Talking about accreditation, Udemy certificates are not accredited and may not be recognized by educational institutions. However, If you are looking to upskill yourself and learn new things, you can go for the digital marketing courses offered by Udemy.
Coursera:
Coursera courses offer a certificate of completion for all paid courses. If we talk about accreditation, then these courses are not recognized as accredited degrees. The best thing about Coursera is that it partners with more than 275 leading universities, including, Yale, Michigan, and Stanford, and leading companies like Google and IBM. You can choose to go for Coursera courses if you want to learn from popular universities and organizations.
Editor's Pick: Does Digital Marketing Course offer a Job Guarantee
4. Assessment:
Udemy:
The most important question that we often seek to know is whether you will have to give any assessment to get the certificate or not. So, in the case of Udemy, you do not have to give any assessment to receive a certificate. The only condition to receiving a certificate is that you need to watch each and every single video from the modules, only then you will receive a certificate of completion. You will receive your certificate via Email or you can choose to download it yourself through your Udemy portal.
Coursera:
In the case of Coursera, you have to crack an assessment in order to receive a certificate of completion. If you fail the course assessment then you don't have to worry about the same as you will get as many chances as you want to crack the assessment. Coursera is better in this case since, without giving an assessment you can't really understand what concepts you have grasped throughout your learning journey.
5. Structured Learning:
Udemy:
Udemy courses are structured into three sections: A beginning, a middle, and an end. The goal at the beginning of the course is to motivate the students and introduce them to what topics they will be coming across throughout the course. The middle part of the course is a very important section where you will be provided with activities and assessments to practice and measure what you're learning. This part of your course mainly includes sections, consisting of lectures, practice activities, and reference materials. The final parts mostly consist of a summary of the key takeaways that you have learned in the entire course. This is the learning pattern that Udemy follows.
Coursera:
Coursera courses, on the other hand, consist of pre-recorded video lectures that you can watch on a weekly or as-needed basis. They also provide student discussion groups, homework/assignments, and online quizzes or exams. The learning curriculum is nearly identical. Coursera does not appear to have a standard learning method, whereas Udemy does.
Which Platform should you choose?
After comparing these two ed-tech giants, Coursera appears to be a better platform for learning digital marketing courses. Though the initial fee structures are high, however majority of the courses appear to be promising. Coursera has relatively larger student base than Udemy globally. Eventually, which courses you should opt will be determined solely by your requirements and expertise. There is no online course that will turn you into an expert digital marketer overnight; you must put in the equal effort to improve your abilities and expertise in this niche. Both Udemy and Coursera's Digital Marketing courses will help you immensely to improve your knowledge in Digital Marketing; the only question is which one works best for you!
Brownie Read: Top 5 Digital Marketing Training Institutes in East Delhi
Udemy:
1. The Complete Digital Marketing Course – 12 courses in 1
2. Digital Marketing Masterclass – 24 Marketing Courses in 1
Coursera:
1. Digital Marketing Specialization