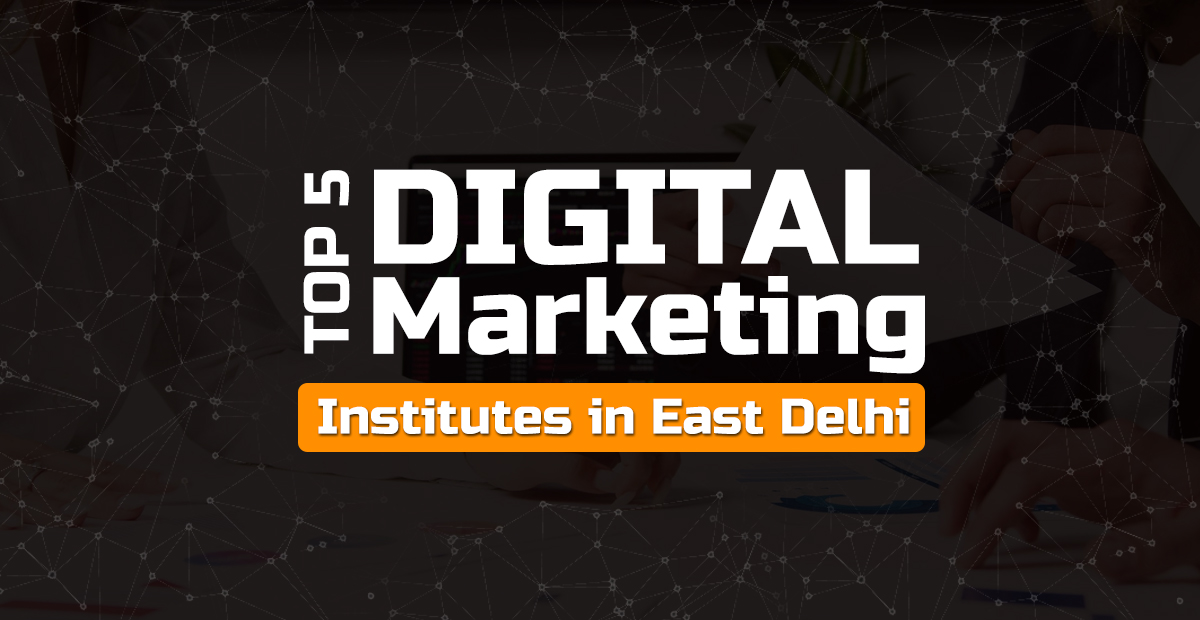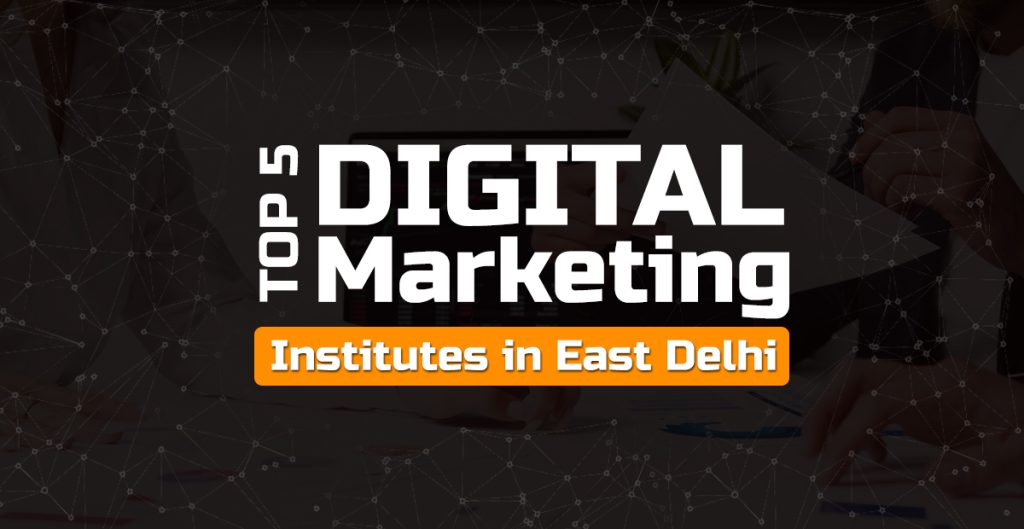 Top 5 Digital Marketing Training Institutes in East Delhi
Will there be any scope of Digital Marketing in the future or is it just a trend that will only last a short span of time? We often hear such questions from either those who are looking to start or restart a career in Digital Marketing or who are already a part of this field. Some even say that Digital Marketing is a dying field. But is it really the truth or is it a mere exaggeration? Let's find out.
The reasons why people are second-guessing about pursuing digital marketing and finding success can be the following:
As more businesses are adding Digital marketing to their marketing strategies, the field is becoming more and more competitive. It's making it hard for businesses to stand out from the crowd.
The algorithms of Google and popular social media platforms keep on changing, which makes it really hard for businesses to maintain their online visibility.
The cost of online advertising has been rising and businesses with low budgets are unable to handle the increasing advertising cost. This eventually leads to the downfall of a business.
Though these issues definitely makes Digital Marketing a tough field but you can't stop walking on the streets out of fear of accidents. Every field has its own pros and cons and this one has some too. Just because of these issues we cannot declare the entire field as dead.
Disclaimer- The only ones who aren't successful in Digital Marketing are the ones who never pursued their career in this field.
So, if you are a daring someone who wants to make a career in Digital Marketing then don't fall for such rumors. If you want to start learning Digital Marketing from scratch then you need to take some courses in Digital marketing and below we will be providing you with a list of the top 5 Digital marketing courses that can help give your career a quick head start.
| Institutions | Course Modules | Fee Structure | Course Hours | Certificate or internship | Batches Available |
| --- | --- | --- | --- | --- | --- |
| 1. Internet Scholars | 30+ | 20,000 + GST | 40+ hours | Available | Online and offline |
| 2. Digital Academy India | 40+ | 34,900 (+18% GST) | 70+ hours | Available | Online |
| 3. DIDM | 50+ | Rs. 38,390 to 48,490 | 118+ hours | Available | Online and Offline |
| 4. Delhi Course | 60+ | Rs. 18,000 + 18% GST | 100+ hours | Available | Online and Offline |
| 5. Digital Vidya | 44+ | Rs 49,900 (+18% GST) | 100+ hours | Available | Online and Offline |
Related Topic: Top 10 Digital Marketing Institutes in Noida
Top 5 Digital Marketing Institutes in East Delhi:
Here are the Top Digital Marketing Institutes in East Delhi. Lets know about one after the other.
1. Internet Scholars:
Internet scholars is the Best Digital Marketing Institute to consider in East Delhi. If you are looking for the digital marketing institutes in and around East Delhi, you might have definitely heard of this institute. Here you will be trained with highly talented professionals. It offers you multiple courses like PPC, SEO, SMM, Email marketing and Advanced digital marketing course etc to college students, graduates, post graduates and professionals who need digital marketing skills.
For the ease of Students the Fee structure in Internet Scholars is also indeed very reasonable compared to other Digital Marketing institutes in East Delhi. If you cannot pay the entire fee at once you can pay off in easy installments. Before Joining you can attend a demo class so that you can experience the training and can resolve the doubts if you have any.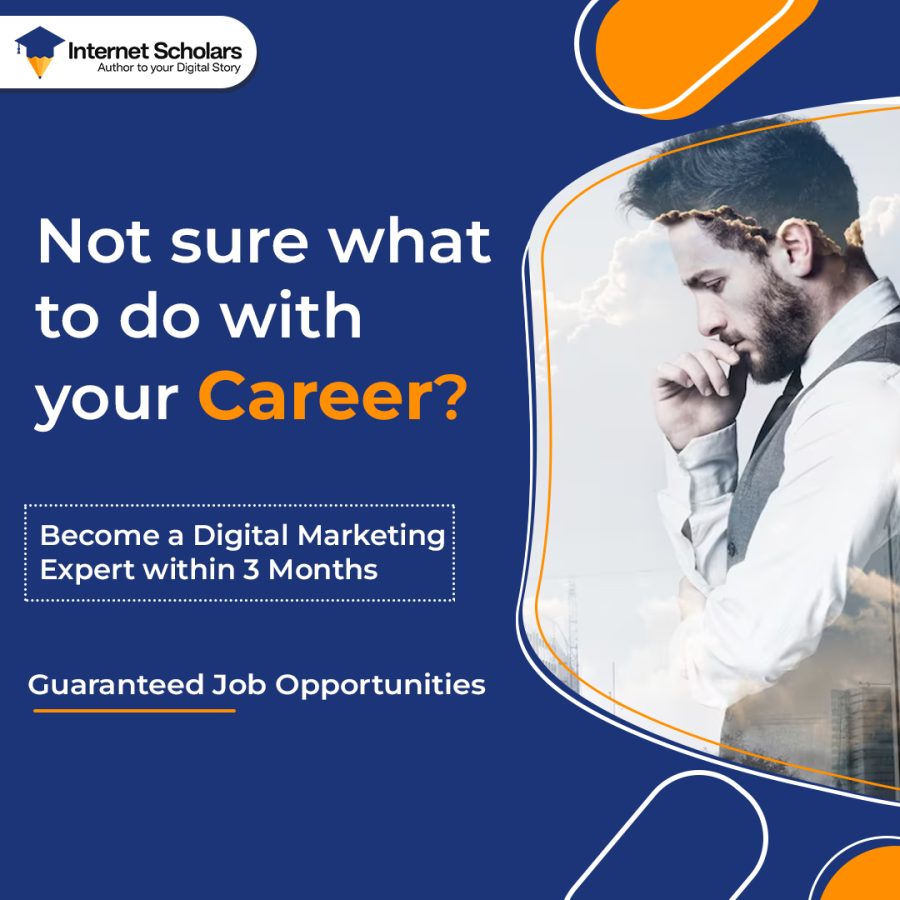 The Digital Marketing Course at Internet scholars covers all of the core modules of Digital Marketing, with an emphasis on the practical aspects of the industry. They advance their knowledge and skills needed to implement, manage, and evaluate digital marketing strategies. Internet Scholars stands is considered as the best centers out of top 10 Digital Marketing Institute in Delhi.
They get a combination of academic and practical digital marketing learning to ensure that they develop the most in-demand skills that complement evolving Digital Marketing.
Reasons to choose Internet Scholars:
Here are multiple reasons for you to choose Internet scholars.
Provides world class training by highly skilled trainers.
Offers both offline and online courses.
Reasonable fee structure and offers you to pay in easy installments.
You can choose a preferred module over 30+ advanced digital marketing and SEO modules.
Placement assistance after the compilation of the course.
Get assistance for interview preparation.
Awards you with professional certificates upon completion of the course.
Offers free internship programs and free SEO tools to use for life time.
Practical training on real time projects.
Lifetime access to course material and can backup the class for future reference.
Students Testimonials after Successful Job Placements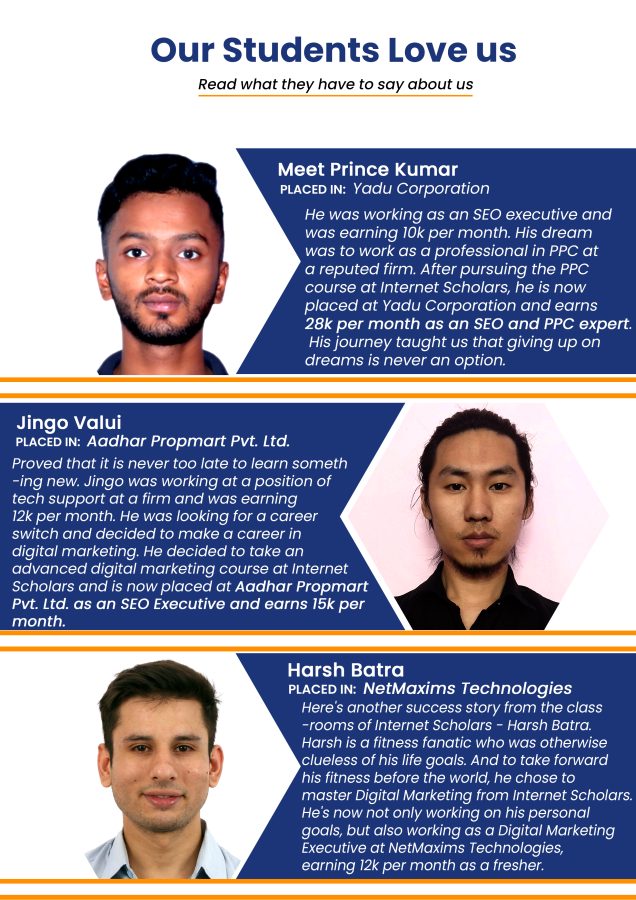 INTERNET SCHOLARS Students Reviews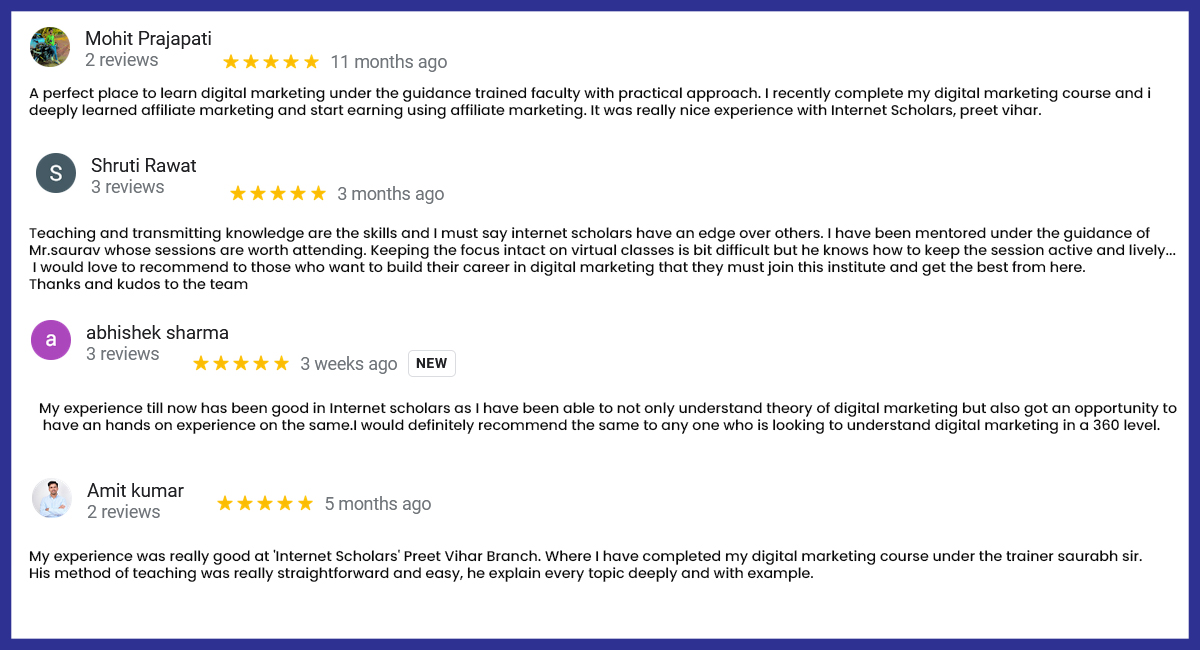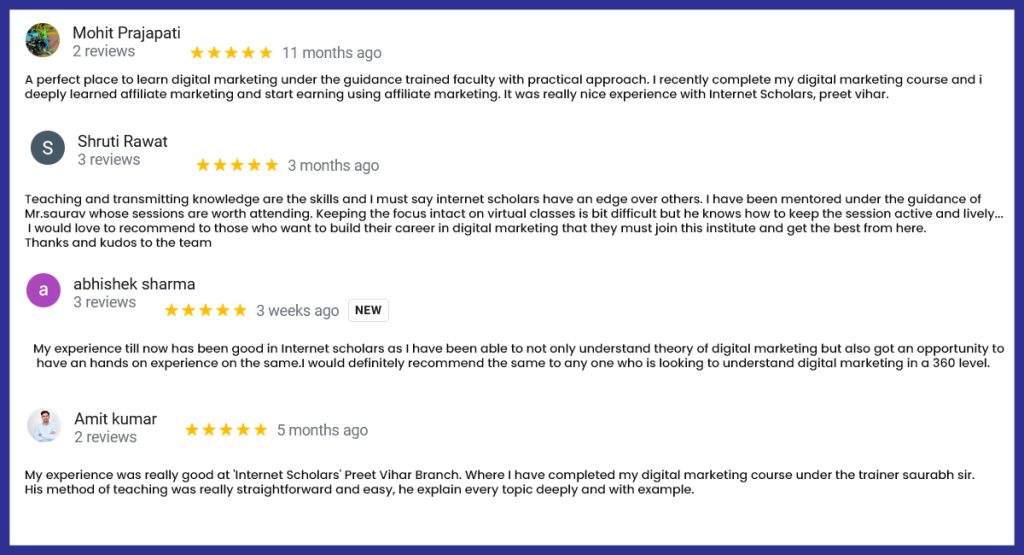 Location: Preet Vihar, Opposite Preet Vihar Metro Station, East Delhi, Delhi 110092
Recommended: Best PPC Training Institute in Delhi NCR
2. DIDM
DIDM is a digital marketing institute in East Delhi and it was founded in 2014. Their masters in digital marketing course has 50+ modules and 100+hours of lectures. You can choose to pursue this course based on your learning level. Since they offer both online and offline classes, even if you are someone who can't be available for offline classes, you can go for an online one.
3. Digital Vidya
Digital Vidya's online Digital Marketing platform that offers 44+ modules, access to digital marketing tools, 100+ hours of live classes and internship opportunities. This Digital marketing course is good for those who want to learn digital marketing from scratch.
4. Delhi Academy India
Delhi academy india offers a certified course in Digital Marketing. Its Digital Marketing course contains 40+ vast modules that will help you gain complete knowledge of the Digital marketing concepts. They also give access to various Digital marketing tools like, Google ads, Google keyword planner and many others. Pursue this course if you want to become a certified digital marketer.
5. Delhi Course
If you already have basic awareness of the digital marketing concepts then you can pursue Delhi Course Academy's advanced digital marketing course. This course contains 60+ advanced modules that will take your Digital marketing knowledge to a different level. Their course is available in both online and offline mode.
Editor's Pick: Is Digital Marketing Course in India worth the Investment
Summary:
The demand for Digital Marketing is growing rapidly , both as a strategic marketing technique and as a career option. Early entry into this field will help you to transform your career life. The Digital Marketing Course provides students and professionals with a competitive advantage in creating a career in the Digital Marketing field.
If you are looking for Digital Marketing Institutes or Courses in East Delhi, then do check the list mentioned above. You can also attend Internet Scholars' Demo Class to learn how they differ from other institutes and what they offer to their students. Guys Today is the best and right time to begin a career in digital marketing. Choose wisely, learn eagerly to grow rapidly. Wish you very good luck.
Frequently Asked Questions (FAQs)
Which is the Best Institute for Digital Marketing in East Delhi?
There are more then 20+ Digital marketing Training Institutes in East Delhi alone. However, if you keep all the criterias in Mind such as Fee, Course Structure, Practical Approach, Job assistance then Internet Scholars is definitely the number 1 in the list.
How do I learn Digital Marketing in Delhi?
There are multiple ways to learn any Course, however best approach is to do your own research and choose the best learning platform or institute. Visit Internet Scholars today to start your Digital marketing Learning.
How to Choose best digital marketing in Delhi?
There is a large number of operational digital marketing training institutes in Delhi, therefore it becomes slightly difficult to choose the ideal Training Center. Internet Scholars' Digital Marketing Course ranks on top amongst the top Digital marketing courses in Delhi.
Can I learn free digital marketing course in Delhi?
Free Digital Marketing Courses are available online, mostly on YouTube. However, to master Digital marketing skills one needs a Mentor/Faculty to learn the modules thoroughly.
How to find Social Media Marketing courses in Delhi?
Social Media Courses are something that has very few training centers all over delhi, luckily Internet Scholars is one of the few top notch institutes that offer limited time dedicated SMO and SMM Course Modules
What is the average fee for a digital marketing course in Delhi?
The average fee of a digital marketing course in Delhi can vary from INR 50,000 to 1,00,000.
Where can I get a free Digital Marketing course with a certificate?
You can search for the Free digital marketing course with certificate from various online learning platforms, including,
Coursera
Udemy
TEDx
Hubspot Academy
Google Online digital marketing certification courses at skill shop.
Note: These courses might help you in getting a basic idea about digital marketing but might not be helpful in gaining practical knowledge. For practical knowledge of the digital marketing concepts you can enroll in a course for a 100% practical learning experience.
Can I pursue Digital Marketing after 12th?
Yes, you can pursue Digital Marketing after 12th. You don't need any bachelors or masters degree to pursue digital marketing.