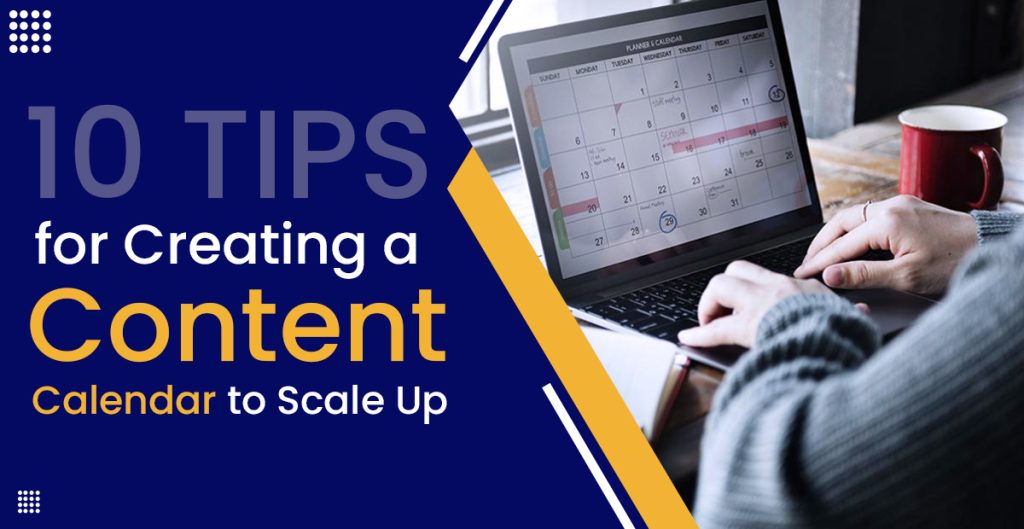 10 Tips for Creating a Content Calendar to Scale Up
Do you want to maximize the impact of your content marketing efforts? Creating a Content calendar is one of the best ways to ensure that your content strategy is well-organized and properly executed. If you're unsure about What is a Content calendar or content calendar apps then This blog post will provide you with 10 simple tips to help you create the perfect content calendar. By following these tips, you can maximize the potential of your content marketing plan, save time and money, and make sure that your content is targeted to the right audience. Read on to learn how to create the perfect content calendar!
10 Tips to Help you Create an Ideal Content Calendar
1) Know your Content Goals
Creating content goals is an essential step in developing a perfect calendar that will deliver the results you're looking for. Before deciding what types of content to produce and how often to post, you need to define your overall objectives.
Start by taking stock of the current state of your business, then consider where you want it to be shortly. Ask yourself: What content do I need to create to help my business grow?
Your content goals should be measurable and specific, such as increasing website traffic, leads, or sales. Once you've identified your primary objective, break it down into smaller, more achievable goals that you can use to track your progress over time.
Remember that content is an evergreen asset, so you should also consider creating content that can be repurposed and used repeatedly. This could include evergreen content such as tutorials, infographics, or case studies that can continue to bring in traffic long after they're initially published.
It's also essential to think about the needs of your audience. Content that speaks to the interests of your readers will be more successful than content that is solely focused on sales. By creating content that provides value, you'll be able to build a loyal readership and establish yourself as a trusted source of information.
Similar Topic: Tips to make your Content Strategy go from Good to Great
2) Create a Template for the Calendar
For a content calendar, it's essential to choose from Content Calendar templates. Here are some tips for creating a template for the calendar:
Include every type of content you plan to publish;
Be specific about each post and include the topic, subtopic, and an estimated word count;
Have deadlines or other key dates on your publishing schedule;
Keep track of changes by making notes on the calendar with arrows pointing forward or backward in time;
Create Separate calendars for long-term projects that span more than one month;
Find examples of successful blogs and publishers that share their templates;
Plan out what content will be published before the deadline;
Use your publishing process to create compelling, relevant posts for readers all year round;
Use a Content Marketing editorial Calendar to map out blog topics as well as how much time you'll need between posts; You may also choose a Editorial Content calendar template as there's a huge range of marketing content calendar template available.
Stay up-to-date on new trends and create content that is not only original but valuable too.
3) Choose your Channels
Content marketing is an excellent way to increase sales, build your brand and provide value to your target market. To achieve these goals, you should create a content calendar that includes blog posts and social media posts. The following are some tips for choosing your channels:
You should choose the channels where your target audience spends their time. For example, if you sell fishing equipment, then Instagram would be an appropriate channel to post on because people who enjoy fishing spend their time on this channel (source).
Don't share the same content across your platforms, or it will get lost in translation. For instance, if you have a Facebook page but also have a Twitter account, then wait to tweet every update from your Facebook page as it won't be clear which social media platform they come from (source).
Be mindful of what type of updates and information will best fit each platform's culture. For example, LinkedIn might only be the best place for funny memes about cats if it is accompanied by job-searching advice.
A general rule to follow when choosing your channels is more formal equals more LinkedIn and less formal equals more Twitter.
4) Gather your Content
The crucial step in creating a content calendar is to gather all of your existing content. Look through old blog posts, emails, social media posts and take note of the topics that generate the most responses. The more similar content you have on hand, the easier it will be to create new work. The next step is to plan ahead and schedule content ahead of time. This will help you avoid scrambling at the last minute or wasting valuable time worrying about what should be done next.
5) Keep evergreen Content at hand
Keeping evergreen content on hand means you can publish it at any time, without having to worry about evergreen content going out of date. Evergreen content is just that: content that never expires. Whether you write an eBook, white paper, blog post or even a video – if it's evergreen then the date it was published doesn't matter; it will always be relevant.
This way, when you want to create new content and your brain is fried from all the planning involved in getting started with your business – you can take what you have on hand and publish it with ease! In this way, what might otherwise be seen as dead content becomes alive.
6) Make use of Prior Content
Creating content is hard work, but it doesn't have to feel like it. To help ease the pain of sitting down and writing an entire blog post, you can use your previously written blog posts as templates to create new content.
When you have time on your hands, take some time to skim through your old posts and pull out sentences or paragraphs that you think would make great blog post ideas. Then go back through the list of potential topics and see if any jump out at you as something worth pursuing further.
Once you've chosen what you want to write about and gathered some research, start by taking a few moments to plan out what information will be most important in the post before moving onto the writing itself.
7) Decide on the Publishing Frequency and set Time limits
It may seem like creating a content calendar is all about the creation, but it's also about planning. If you're going to create a compelling and engaging content marketing campaign, then you'll need to plan accordingly.
That means deciding on the publishing frequency and setting time limits on each piece of content. Once you know what will be published and when, it'll be much easier to come up with topics and titles for each piece of content as well as how long each one should take to produce.
8) Update and Review your plan
Update and review your plan on a regular basis to make sure you are meeting your goals. A content calendar is only effective if it is updated and reviewed regularly to align with the business objectives. You should schedule monthly reviews of your plan to assess whether or not you are achieving your goals. This review should include two main questions: What went well? and What could be improved?
9) Keep it Fresh
How do you keep content fresh? It's simple, really. Keep your eyes open for current events happening worldwide and make them relevant to your audience. Mix up content types with written posts, videos, infographics and more. Share content on social media at different times of the day to see when it resonates best with your audience. And always be testing new things to find what works best!
10) Monitor how your content is received
It's important to monitor how your content is received. Tracking how many views and shares your content gets will help you decide which pieces are worth repeating. You should also consider how long it takes to create certain types of content, such as videos or graphic images, before creating another one. Monitor what type of posts are the most popular with your audience, so that you can keep these types of posts in rotation.
External Resource: Create a Social Media Calendar to Plan Your Content
Conclusion
A content marketing calendar is an effective tool for managing your content. It not only saves time and effort, but it also helps to plan and organize your schedule. A well-organized content marketing calendar can lead to better results, both in terms of traffic and rankings. Internet Scholars offers exclusive Social Media Optimization Training to help you with your Social Media woes and Queries. Visit our Contact Page for admission related queries.