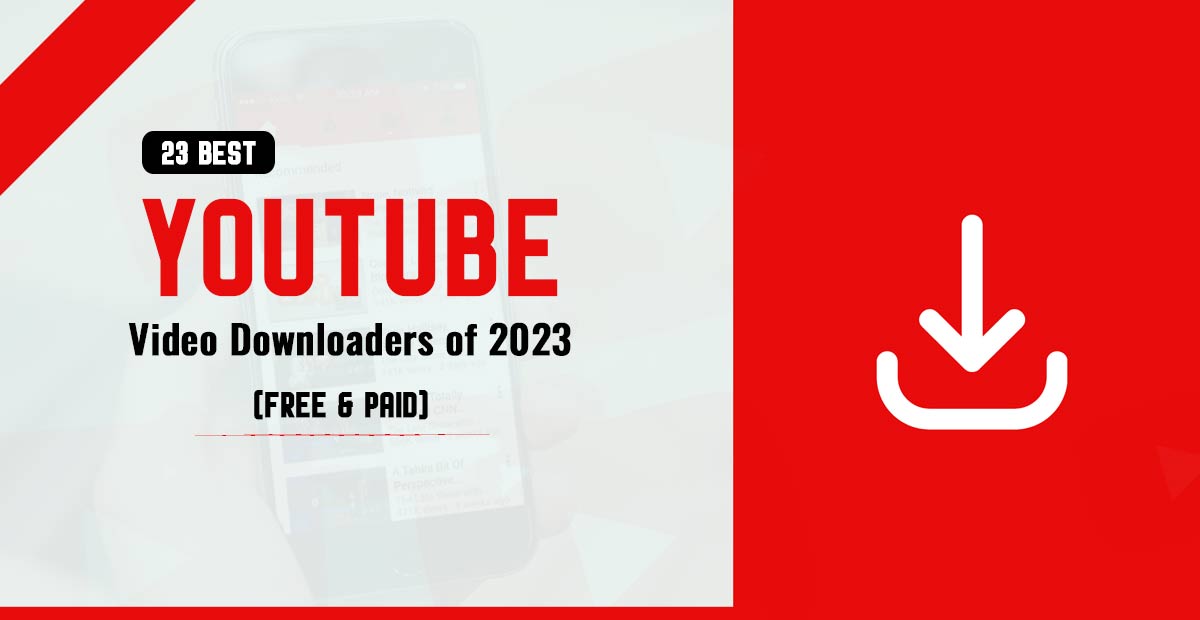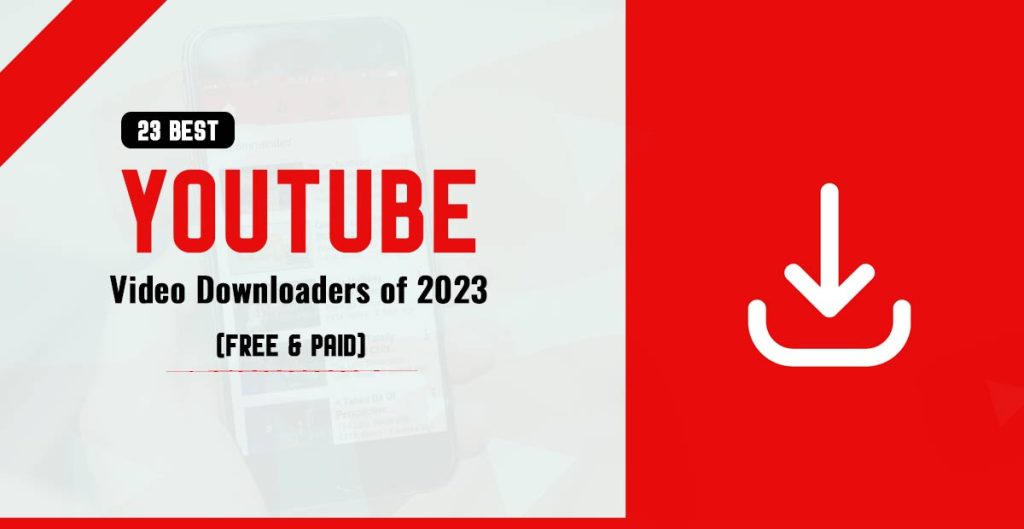 23 Best YouTube Video Downloaders of 2023 (Free & Paid)
It's no secret how YouTube has changed our experience of watching Videos online. From courses and music lyrics to game tutorials and entertaining videos, YouTube has the widest array of videos to keep us entertained and informed.
But what do you do when you don't have faster Internet speed to watch videos online? You guessed it right, you download YouTube videos using the downloader apps.
No matter if the Internet in your area is going off for a week or if you're going to an isolated place for a staycation, the below list of 23 best YouTube video downloader apps comes in handy whenever you wish to watch YouTube videos offline.
So, whether you want an inexpensive and easy app or one that has advanced features, this list has something for you all. Stay with us till the end of the list of 23 best YouTube Video downloader apps and let us know which one you liked the most.
Recommended: Top 5 Digital Marketing Institutes in East Delhi
Best YouTube Video Downloader Apps for Windows/Mac
This app is best known for downloading the whole playlist in one click without any hiccups.
Features:
Support ultra-high resolution videos (4K and 8K quality) with audio
Extracts audio as MP3 and saves it
Compatible for macOS, Ubuntu, and Windows
Supports iTunes/Music.com exports
Price: $19.99
This downloader has been awarded as the best YouTube Video downloader app in 2023 and allows download from 900 websites, including Facebook, Vimeo, YouTube, Twitter, etc.
Features:
Supports PC, macOs, Windows
Up to 8K resolution videos supported
Converts videos to GIFs
In-built video trimmer
Supports bulk downloads
Price: $19.99

This doesn't just allow YouTube downloads; it also allows saving the downloaded videos to different formats.
Features:
In-built browser for video search
Protects your downloaded videos' privacy
Downloads at ultra-fast speed
Well–trusted with 4.8 rating on TrustPilot
Supports 10,000 websites, including Spotify, twitch, Twitter, etc.

Price: Free for Mac and Windows

This is a dedicated macOS YouTube video downloader that allows downloading and editing under the same roof.
Features:
Allows editing in downloaded videos
Allows downloading for a selected portion of video
Auto-detects links copied from clipboard
Supports resolutions from 144p to 4K HD

Price: $9.99

iTubeGo optimized CPU usage and the computer's bandwidth to enhance download efficiency without hurting the system's performance.
Features:
Supports high-resolution videos up to 8K
Extracts 320 kbps audio as MP3
Turbo-fast downloads even for long videos
Supports multiple downloads
Price: $35.95 for lifetime access
This YouTube video downloader supports 5 languages, including English, Deutsch, Portuguese, Japanese and Chinese.
Features:
Feature-rich internal browser
Auto-categorizes downloaded videos
In-built video player
Supports bulk-downloading
Supports more than 1,000 websites
Price: $29.95
Also Read: What are 5 Top AI Alternatives to ChatGPT in 2023
It is a simple, fast, and safe video downloader that allows multiple downloads in one go.
Features:
Allows multiple downloads in one-click
Supports bulk downloads, including entire YouTube playlists or Instagram pages
Supports high-resolutions, up to 8K
Allows conversion into various formats, including MP4, MP3, AVI, etc.
Price: $10 for all features
One of the easiest Youtube Video downloaders which allows you to download videos by simply copy-pasting the video URL in the application. It allows auto-download of the new videos from your preferred Youtube channels.
Features:
Allows subtitle extraction from videos
Allows YouTube playlists and channels to be downloaded
Supports 4K resolution from various websites
Allows 3D and 360 degree video downloads
Price: Starter Plan is free | €10 yearly for Lite | €15 for personal use
This YouTube video downloader allows videos and music to be downloaded from 1,000+ websites.
Features:
Auto-detects advertisements and omits them from videos
Allows transfer of downloaded videos to anywhere
Allows bulk video downloads
Supports subtitles and music files
Price: $59.99 for lifetime access
This video downloader allows you to omit ads from the downloaded videos and makes the offline YouTube experience hiccup less.
Features:
Allows video, audio and playlist downloads
Supports conversion to MP3 or MP4 formats
Supports up to 8k resolution
Allows bulk downloads
2x download speed with Pro

Price: $3.99 for Pro
This YouTube video downloader allows batch downloads from major websites like Facebook, YouTube, Vimeo, Dailymotion, etc.
Features:
Available for both Mac or Windows
Allows video conversion to various formats
In-built video editor
Converts videos to device-supported videos
Supports up to 8K resolution videos

Price: $29.95 per month
This is an amazing YouTube video downloader that allows quick downloads and almost all of its features for free.
Features:
Allows Live stream recording
Supports Mac and Windows only
In-built video editor
Allows downloads from 1000+ websites
Supports batch conversion of videos, audios, and DVDs to 420+ formats
Price: $29.95 yearly
This is a one of its kind video downloader that is AI-rich to support creative purposes.
Features:
Built-in AI tools to expand creativity
Lossless converter for videos, audio, images and DVDs
Allows bulk downloads for music, movies, and videos
In-built video editor

Price: $79.95 for lifetime access. You can also check their monthly/yearly plans.
This is one of the best YouTube video downloaders that allows one-click downloads for YouTube videos, playlists, and channels.
Features:
Allows TikTok videos download without watermarks
Allows Live-stream video download in real-time
Allows video and audio downloads from 10,000+ websites
Supports all resolutions up to 8K
Price: $29.95 Lifetime access. You can also check its monthly, yearly or family plans.
This downloader allows one-click downloads from 100+ popular websites, including Tumblr and Instagram.
Features:
Allows user to pre-set download format, quality and output directory for desired results
Quicker download on a single click
Supports formats like 4K, 8k, 360, VR, 3D, 60fps
Allows caption addition to the downloaded videos
Price: It's Free! Though you can choose to get a personal edition for $29.95 lifetime access.

The only video downloader that supports many websites including Apple Trailers, Adobe Tv, IMDb and other websites. They also offer a browser extension of the downloader.

Features:
Simplest user interface
Supports video download in a single click (just copy the link and download your video)
Supports HD format
Supports 800+ websites
Cons: Don't support batch download
Price: It's Free!
This youtube video downloader allows you to download videos in high-quality for FREE! You can access this downloader on Mac, Linux, Windows, or mobile devices.
Features:
Supports multi format download including MP3, 3GP, MP4, etc.
Allows video conversion at ultra-high speed
Compatible with all browsers
Offers unlimited downloads

Price: It is free!
SaveMedia is a YouTube video downloader and converter that supports 500+ websites and video archives on the Internet.
Features:
Restricts popups, ads, or redirects enhancing user experience
Supports YouTube video download in HD quality
Allows video conversion to MP3
Cons: Doesn't allow bulk download
Price: It is Free!
The next one on our list is ClipGrab, which allows downloads on Mac, Windows, and Linux for free!
Features:
Easy-to-use and allows multimedia content download from different streaming websites
In-Built search function that makes it stand out
Auto-identifies copied URLs from clipboard
Allows file format conversion between video and audio
Price: It is free!
This is a big-packet offer in one app that provides:
dedicated YouTube video downloader
separate online video downloader
professional TikTok video downloader without watermark
Features:
Ensures maximum security from viruses with its SSL encryption
Supports up to 8K YouTube video resolution
Allows extraction and merging of subtitles
Allows bulk downloads at high speed

Price: You can try the free version or buy a monthly plan for $9.95. You can also check their yearly or family plans.


This YouTube video downloader offers in-built storage where you can store your downloaded YouTube playlists with a single-click.
Features:
Fast and light-weight app with built-in search facility
Supports YouTube subtitle download in any language
Supports video file conversion to any file format
Allows up to 8K resolution video download at 60fps

Price: It is available for free.
Airy is one of the preferred YouTube video downloaders because it offers convenience and quality on Mac and Windows, while saving you time with high-speed downloads.
Features:
Allows unlimited YouTube video downloads up to any length
Offers Manage your downloads option where you can pause your downloads whenever necessary
The app offers 20+ language translations
Supports browser integration
Price: $19.95
This YouTube video downloader allows you to download videos from multiple websites in various formats, such as MP4, FLV, 3GP, WMV, WEBM, MP3, etc.
Features:
Allows downloads from various websites, including Dailymotion, Metacafe, LiveLeak, YouTube, etc.
Lossless video/audio conversion between any formats
Allows computer screen recording with a single click
Price: It's free!
Wrapping Up:
This wide range of the best YouTube video downloader apps is exactly what you need. No matter if you're looking for advanced features, an easy interface, or unlimited downloads, this list has covered everything one may need.
Now go and experiment with the list. Download and use the free versions of the apps, and don't hesitate to upgrade to the paid version when you find the one that best suits your needs.
And while you enjoy downloading and binging YouTube videos, don't forget to respect the intellectual property rights of the apps and use them responsibly.
Happy Downloading!