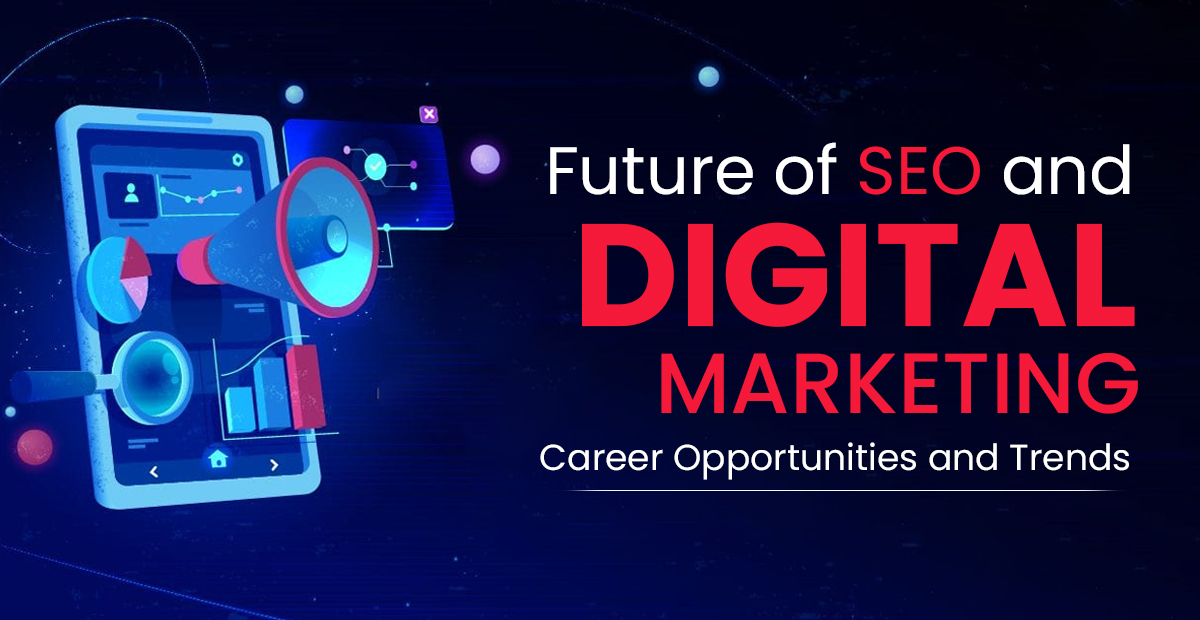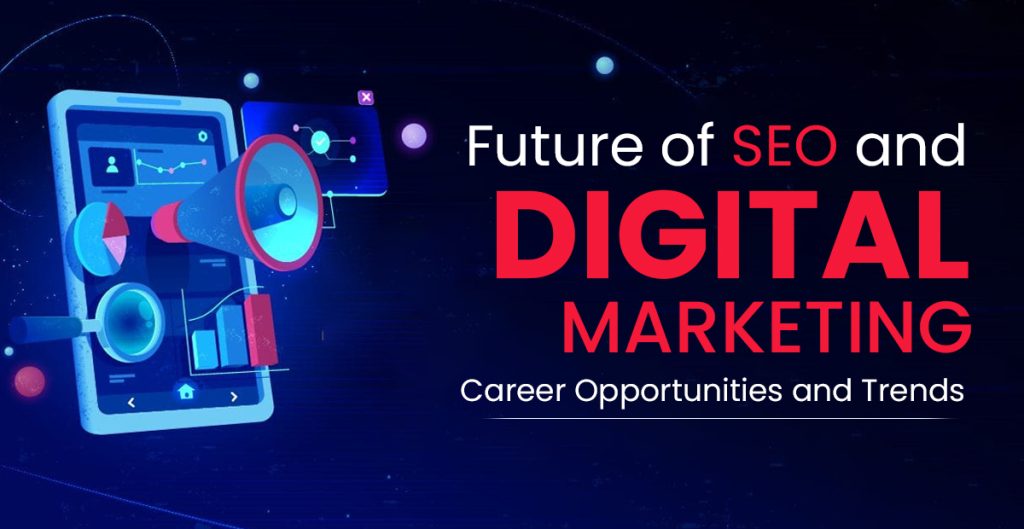 Future of SEO and Digital Marketing: Career Opportunities and Trends
The ever-changing landscape of SEO and Digital Marketing presents many exciting opportunities for professionals in the field. As technology and consumer behavior continue to evolve, it is essential to stay up to date on the latest Trends and Developments.
In this blog post, we will explore the future of SEO and digital marketing and how it can offer lucrative career opportunities. We will also discuss current Trends and Strategies that you should be aware of as a professional in the industry. With the right knowledge and skills, you can find success in this dynamic and ever-growing field.
Related: Top 10 Digital Marketing Institutes in Noida
What is SEO and why is it Crucial?
Search Engine Optimization (SEO) is a set of strategies and tactics used to increase the visibility of a website or web page in search engine results. It helps to improve the ranking of your website in organic search engine results, meaning it increases its visibility on search engine results pages (SERPs). The goal of SEO is to drive more qualified traffic to your website through organic (non-paid) search engine results.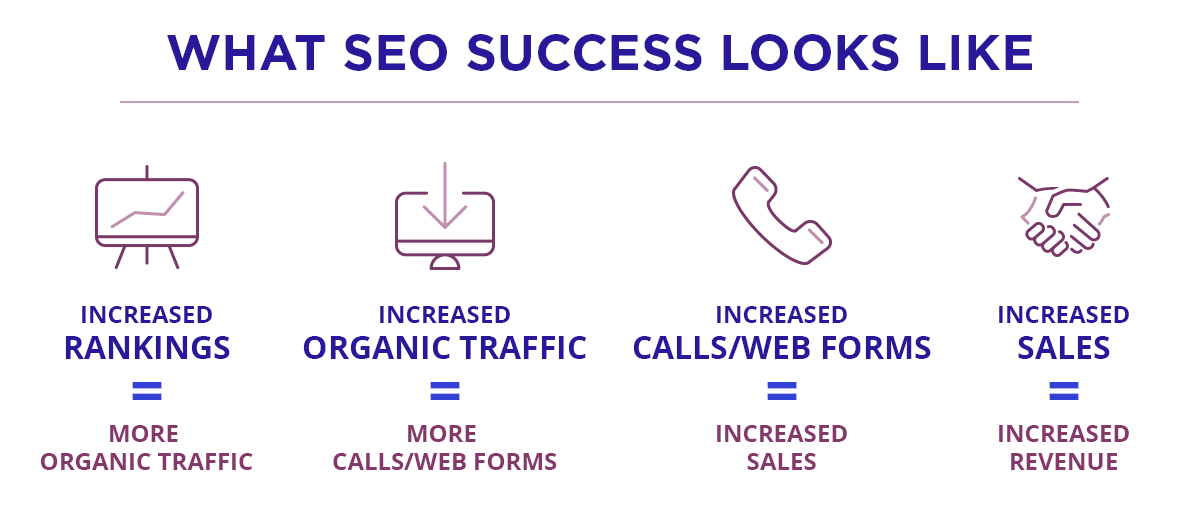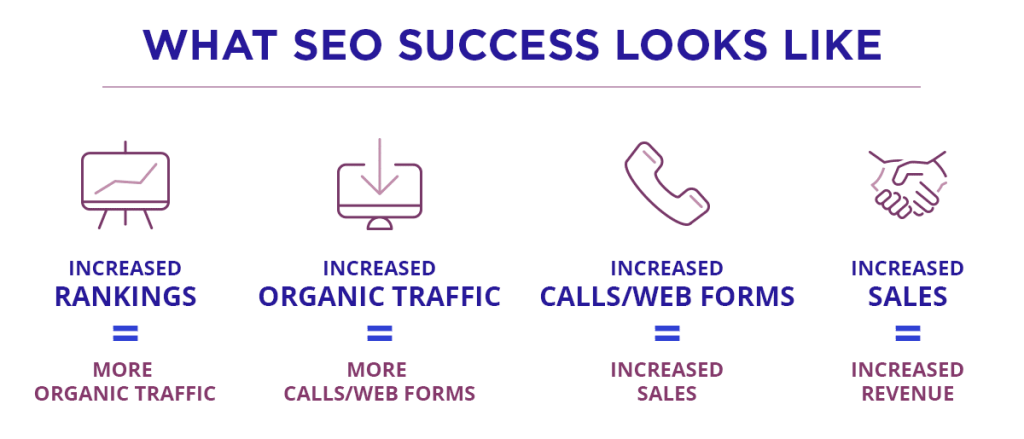 SEO strategies are designed to make websites and web pages more attractive to search engines so they can be indexed and given higher rankings in SERPs. This includes optimizing content, HTML and other coding, image files, and backlinks. SEO can also involve tweaking website design to make it more user-friendly and easier for search engines to navigate. In addition, there are techniques like link building, social media optimization, and content marketing that can be employed to boost SEO performance.
What is the Future of SEO?
SEO has become increasingly important in the digital marketing landscape, as it allows businesses to increase their online visibility, reach more potential customers, and convert more leads into sales.
The future of SEO looks bright, as it continues to evolve to meet the ever-changing needs of businesses and their customers. As technology advances, SEO will become even more sophisticated, allowing businesses to target their audience more accurately and improve their rankings in the process.
Voice search is already becoming an important part of SEO, and this trend is expected to continue. Voice searches are becoming increasingly popular, and this means that businesses must optimize their websites for voice searches to remain competitive. In addition, businesses should focus on creating content that is optimized for mobile devices. Mobile devices are becoming more popular, and the majority of internet searches now take place on mobile devices.
Another emerging trend in SEO is the use of artificial intelligence (AI). AI allows for more accurate targeting of customers, as well as more efficient analysis and optimization of webpages. AI is also being used to create content tailored to user intent and better match results with searcher queries.
Local SEO is becoming more important than ever before. Businesses are realizing the importance of appearing in local search results, as people often search for local products and services. Local SEO focuses on optimizing a website's content for specific areas and improving its visibility in local search results.
The future of SEO looks very promising. Technology is continuously evolving and businesses must keep up with the latest trends if they want to remain competitive. Businesses should focus on optimizing their websites for voice searches, mobile devices, local searches, and AI to maximize their online visibility and attract more potential customers.
Recommended: Tips for Learning SEO
What is the Future of Digital Marketing?
Digital marketing is an ever-evolving field that continues to grow as technology advances. With the rise of digital technologies, digital marketing is becoming increasingly important for businesses, allowing them to reach wider audiences and interact with customers in more meaningful ways. As the world of marketing becomes more digitally focused, there are more opportunities to be had for those who are interested in the field.
Digital marketing is often defined as the process of promoting and advertising products or services online through digital channels such as search engines, social media, email, and other websites. Digital marketing can be used to promote products, create brand awareness, generate leads, and even convert sales. In today's digitally connected world, having a strong digital presence is essential for success in any industry.
The future of digital marketing looks bright. With the continued growth of the internet, more and more businesses are turning to digital strategies to increase their reach and gain a competitive edge. As a result, there is a need for more professionals who specialize in digital marketing and understand how to effectively utilize digital strategies to engage customers and drive conversions.
The rise of social media platforms such as Facebook, Twitter, Instagram, Snapchat, YouTube, and Pinterest have further expanded the reach of digital marketing, making it easier for businesses to reach new audiences. Mobile devices such as smartphones and tablets are also playing a major role in digital marketing. As consumers become more accustomed to using mobile devices for communication, shopping, and entertainment, businesses need to use digital strategies that focus on these devices to ensure they stay ahead of their competition.
As digital marketing evolves, professionals need to stay up-to-date on the latest trends and technologies so they can remain competitive. Digital marketing professionals should also be familiar with web analytics tools and search engine optimization techniques so they can create effective campaigns that reach the right audience. In addition, professionals should be aware of emerging technologies such as artificial intelligence, virtual reality, augmented reality, and blockchain technology, as these can all have an impact on the way businesses operate in the future.
In the future, digital marketing will become even more important as businesses look to take advantage of all the opportunities available in the digital world. As technology continues to advance, new channels, tools, and strategies will continue to be developed, giving digital marketers even more opportunities to engage customers in new and exciting ways. In order for digital marketing professionals to remain competitive, they will need to continually update their knowledge and skillset so they can stay ahead of the curve.
Editor's Choice: Top 5 Digital Marketing Institutes in East Delhi
What are the Career Opportunities of SEO and Digital Marketing?
The demand for SEO and Digital Marketing professionals is growing rapidly. Companies are always looking for skilled professionals to help them succeed in the ever-evolving digital marketing world. With the right training, experience, and certifications, professionals can take on a variety of roles in this field, including:
SEO Strategist: An SEO Strategist is responsible for developing strategies to increase organic traffic and search engine rankings. They must have extensive knowledge of search engine algorithms and must be able to optimize websites for maximum visibility.
Content Writer: Content writers create original, engaging content for websites and blogs. They need to have an understanding of SEO tactics and must be able to create content that is interesting and informative.
Digital Marketer: Digital marketers manage campaigns across multiple channels to increase brand awareness and engage customers. They need to be well-versed in analytics, social media platforms, and various types of advertising.
PPC Manager: Pay-per-click (PPC) managers are responsible for creating, managing, and optimizing PPC campaigns. They need to be familiar with Google Ads, Bing Ads, and other popular PPC platforms.
Conversion Rate Optimization (CRO) Specialist: A CRO specialist helps businesses improve their website's conversion rate by testing different design elements, content, and layouts. They must understand user psychology and be able to measure the success of different tests.
Social Media Manager: Social media managers are responsible for managing a company's social media presence. They must be knowledgeable about different platforms, such as Facebook, Twitter, Instagram, and LinkedIn, and must be able to create engaging posts and ads that reach target audiences.
Digital Analytics Specialist: Digital analytics specialists analyze website data to uncover trends and insights. They need to have an understanding of web analytics tools such as Google Analytics, Adobe Analytics, and Kissmetrics.
By becoming an expert in SEO & digital marketing, professionals can not only develop a career in this field but can also help businesses become more successful online. As the demand for skilled professionals in this field continues to grow, the opportunities for career growth are immense.
What are the future Trends of SEO and Digital Marketing?
The future of SEO and digital marketing is promising. As technology continues to evolve and new platforms and trends emerge, the demand for qualified professionals will only continue to grow. Here are a few of the trends that are expected to shape the industry in the near future:
Mobile SEO: With more people accessing the web through mobile devices, businesses need to ensure that their sites are optimized for mobile. This includes making sure that their site is responsive, loading quickly, and designed to be user-friendly for small screens. As mobile use increases, so does the importance of having a website that caters to mobile users.
Voice Search Optimization: As voice search becomes more popular, websites need to be optimized for voice queries. This includes making sure that your content is written in natural language and tailored towards the type of questions people would be asking with a voice search.
Artificial Intelligence (AI): AI is being used in many aspects of digital marketing, from creating automated ads to optimizing websites. AI can help marketers improve their campaigns and website performance by identifying key insights and trends, while also automating mundane tasks.
Personalized Content: Consumers expect more personalized content, tailored to their interests and needs. By utilizing personalization techniques such as dynamic content and retargeting ads, businesses can create content that resonates with individual customers, resulting in higher engagement levels and increased conversions.
Video Content: Video content is becoming increasingly popular and effective for digital marketing efforts. From social media videos to explainer videos, video content can help engage customers in new ways and capture attention more quickly than text-based content.
These are just a few of the trends that are expected to shape the future of SEO and digital marketing. With the right strategies and an understanding of how these trends work, businesses can stay ahead of the competition and continue to grow their digital presence in the years to come.
Helpful Topics: Top SEO Trends
Conclusion
The future of SEO and digital marketing is both exciting and uncertain. As the industry evolves, new trends and strategies will emerge, providing more opportunities for professionals to grow and make an impact. However, staying up to date on the latest changes and trends in the industry is essential for success.
Professionals who can successfully leverage their knowledge of SEO and digital marketing to create effective strategies will be at a major advantage. Ultimately, SEO and digital marketing are viable career paths with plenty of potential for growth. With the right skills and dedication, anyone can succeed in this growing industry.
Similar Article: What Is The Future Of Digital Marketing