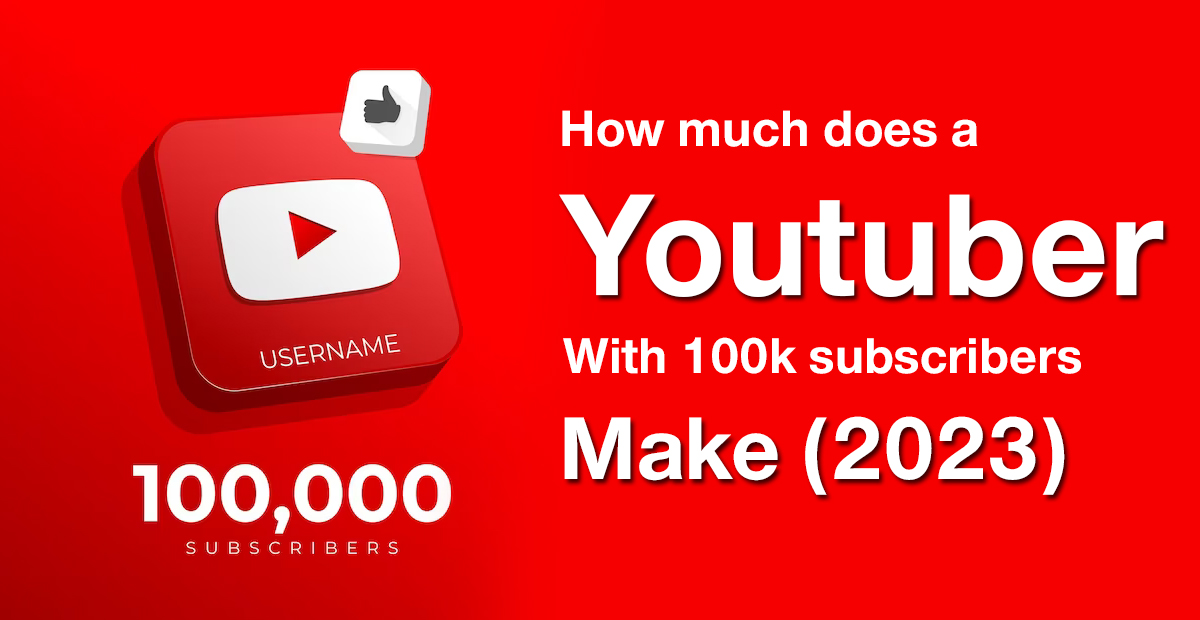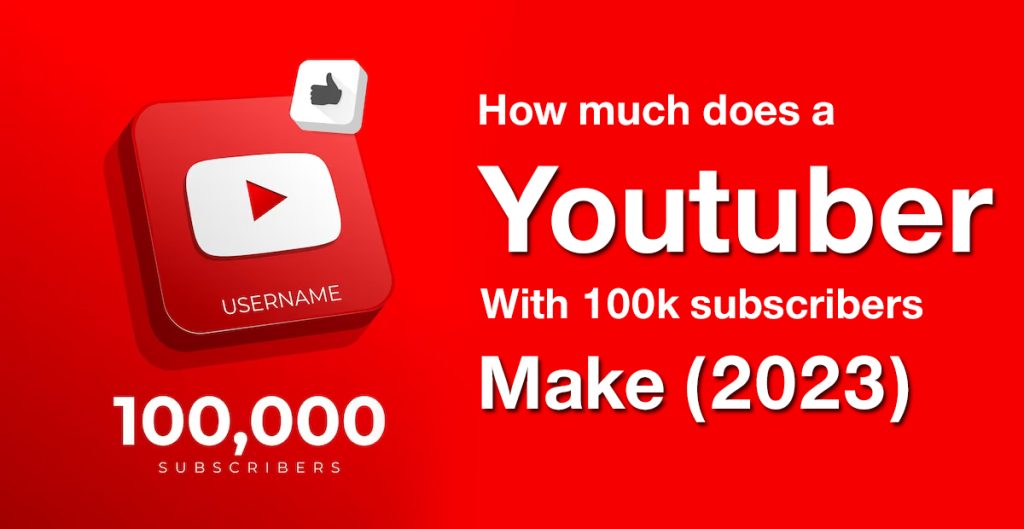 How much does a Youtuber with 100k subscribers make (2023)
If you're struck by the thought How much a YouTuber can earn, you're not alone. Even the Youtuber themselves face this question sooner or later they start their journey on running a YouTube channel. And if you're thinking to be a Youtuber, this is a legit question you must find an answer to.
And to help you with your research, this article will give you a full run-down on a Youtuber's earnings, channels of income, factors that impact income, and quick tips to increase your subscriber count.
Recommended: 23 Best YouTube Video Downloaders of 2023 (Free & Paid)
How does a YouTuber make Money?
There are multiple revenue streams for a YouTuber with 100k subscribers such as, sponsored content, YouTube Premium revenue, ad revenue, etc. Though the income varies from stream to stream, there's one common factor that determines income for each stream- Content Engagement. How highly targeted, active and engaged your audience is in your content determines how much you can make as a YouTuber. (Youtuber with 100k Subscribers)
Here are the different income streams of a YouTuber with 100k subscribers:
Ad Revenue:
This is the most popular source of YouTube Income. Your viewers will see an ad before, after or in-between your video and you'll earn a share of ad revenue when they interact with the ad.
Sponsored content:
Brands seek YouTubers with a significant following to collaborate with them and promote their products or services in your videos. The money you make from sponsored content depends on your engagement and the brand's budget.

Trending: Is Digital Marketing Course in India worth the Investment?
YouTube Premium Revenue:
YouTube premium is a paid membership that offers Youtube ad-free experience, along with offline access and access to YouTube originals. As a Youtuber with 100k subscribers earn a share of the revenue generated from YouTube Premium subscribers who watch your content.
Merchandise sales:
If you have 100k subscribers and a high engagement rate, you can run a successful business of merchandise selling t-shirts, mugs, hoodies or customized items.

Super Chats and Stickers:
You can earn through Super chats and super stickers on LIVE streams. Your viewers can buy these stickers to support you or stand out in LIVE chats. As a result, you get a share of revenue generated from these purchases.
Key Factors that affect Youtubers income
Engagement rate:
Youtube favors videos that have higher watch time and engagement. Hence, engagement rate determines your video visibility, reach and ad revenue.
Ad formats and CPM:
The type of ads shown on your Youtube videos and CPM (Cost per thousand views) on those ads impact ad revenue. Different ad formats can have variant CPMs, hence factors like viewers location, ad relevance, ad engagement, etc impact ad revenue.

Audience demographic:
Your audience's demographic including their age, location, gender, interests, etc can affect the ads shown and brands that want to collaborate with you as a Youtuber.
Subscriber count and views:
Subscriber count and views you get on your videos determine your income on a crucial scale. Higher the subscriber count and more the views, higher is your chance to earn from ads and other potential revenue streams.
Niche and market demand:
The niche you choose as a YouTuber plays one of the biggest roles in determining your Youtube income. Target trending niches like games, technology, finance, beauty etc that can attract higher-paying ads and brand collaborations.

NOTE: Remember, the trendier the niche, higher the competition.
Income of a Youtuber with 100k Subscribers in Various Niches
As shared above, your income as a Youtuber with 100k subscribers can be impacted deeply based on the niche you target.
So here's a quick run-down of how much a Youtuber with 100k subscribers can potentially earn in different niches:
Niche: Travel and Adventure
Hopping onto one of the hottest niche of the Indian Youtuber market, Travel and adventure. With the travel industry booming after the pandemic, this niche has risen to next level offering thick money streams to the Travel and Adventure youtubers. To check how much a Youtuber with 100k subscribers can earn in the Travel and adventure niche, we researched a few names and moved forward with Navankur Choudhary.
Navankur Choudhary is doctor by profession and runs 2 successful Youtube channels.
Youtube Channel: @navankurchaudhary8038
Subscriber Count: 110k subscribers
Weekly average views: 17.8K+ views weekly
Here's how much he earns from his Youtube channel:
Though his main YouTube channel is @yatridoctor where he has more than a million subscribers which helps him make a whopping $800-12.8k per month.
Niche: Beauty and Makeup
Just how the post-pandemic effects uplifted the Travel and Adventure niche, beauty and Makeup is another niche that benefited a lot. Ordinary people are chasing MUA as a career, and established ones are turning to broader income streams by running Makeover Institutes.
Well, being discussed with the scope of Beauty and Makeover, we have a youtuber Shalini Srivastava who has grown her Youtube channel to 153k subscribers along with an Instagram followership of 122k. She now has her own makeup brand called "My Hues".

Youtube Channel: @shalinisrivastava
Subscriber Count: 153k subscribers
Weekly average views: 67.2k+ views per week
And according to SocialBlade, she earns an average of $72-$1.2k monthly. Here's a complete breakdown of her YouTube earnings.
Niche: Fashion and Style
The next one in our list is a Youtube channel with 95.3k subscribers in the fashion and style niche. @styletrails is a Youtube channel run and managed by Shreeja Bagwe, a fashion enthusiast who has a huge following of 201k followers on Instagram in the same niche. Her work speaks for her and despite having the least followers than the above two Youtube channels, she's earning the most.
Youtube Channel: @styletrails
Subscriber Count: 95.3k subscribers
Weekly average views: 770k views per week
Her work and niche combination is working just fine to make her a whopping $825-$13.2K per month.
We have listed three Youtubers within the range of 100-160K YouTube subscribers. But before we jump to the conclusion, did you notice something in the above three mentions?
We'll help you. We clearly mentioned that niche, audience, and content engagement highly impact how much you make as a Youtuber. Shreeja Bagwe (@styletrails) despite having the lowest subscriber count among all three has the highest number of views and makes the most money per month. Hence, proving our point that subscribe count is the least important metric to decide your income from YouTube.
NOTE: The income stated above for all three channels is an estimated amount.
5 Quick Tips to increase your Income on YouTube
Increasing your income on Youtube requires dedication, consistency, and strategic efforts. Here are 4 quick tips that can help you increase your income on YouTube:
Create high-quality content consistently
Make your video titles and thumbnails catchy
Target a specific audience and interact with them
Monetize your channel and diversify income streams
Embed keywords in your video titles and descriptions