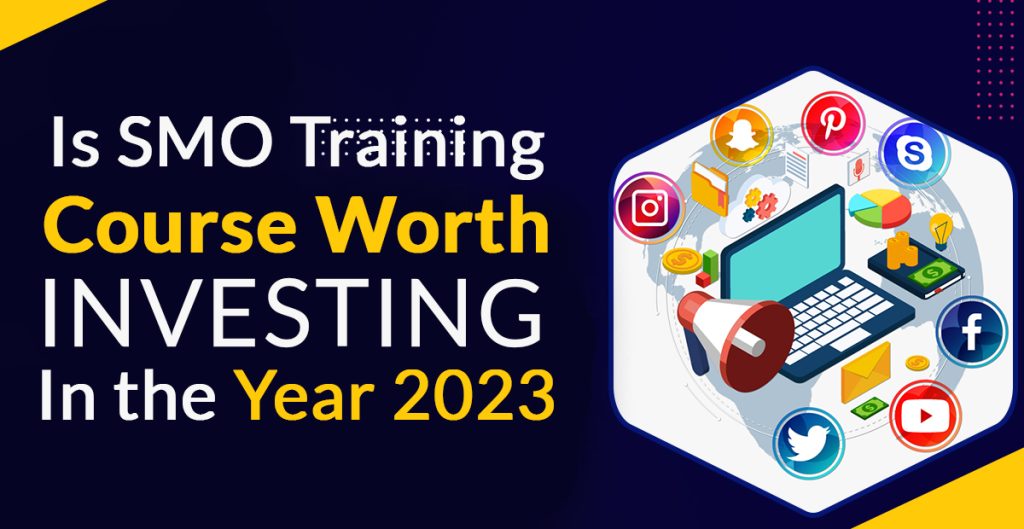 Is SMO Training Course Worth Investing in the Year 2023
Search engine optimization (SEO) and Social Media Optimization (SMO) are two of the most important aspects of online marketing. In today's world, having a strong online presence is a must for businesses of all sizes. This is why investing in SMO training courses has become a popular choice among many business owners in the year 2023. With the right training and knowledge, businesses can gain a competitive edge in the digital landscape. In this blog post, we will discuss why investing in an SMO training course is worth it in the year 2023.
What is Social Media Optimization or Social Media Marketing?
Social media optimization (SMO) is the process of using social networks and other platforms to promote a website, product or service. It involves creating content that encourages readers to share it with their peers, thereby increasing exposure and brand visibility. Through SMO, businesses can reach more potential customers, increase website traffic, generate leads, and drive sales.
By utilizing various methods like blogging, microblogging, online discussion forums, bookmarks, RSS feeds, social networking sites and other popular forms of media, companies can create an effective online presence that reaches a wide range of potential customers. SMO is also important for SEO (search engine optimization) as it helps websites gain higher rankings in search engine results pages.
Question: How do I find Social Media Optimization (SMO) Training Institute?
What will you learn from a SMO Training Course?
A SMO training course is designed to help you understand and implement the basics of Social Media Optimization (SMO) so that you can leverage it for your business. In the course, you will learn a variety of topics, including:
1. Introduction to SMO: You will gain an understanding of what SMO is, its components, benefits, and how to use it as part of your digital marketing strategy.
2. Creating SMO Content: You will learn how to create content that engages and resonates with your target audience. This includes crafting headlines, choosing topics, formatting content, and creating visuals.
3. Developing an SMO Plan: You will be provided with tools and strategies to develop an effective SMO plan that works for your business goals. This includes analyzing current market trends, setting up campaigns, and developing effective keywords.
4. Engaging on Social Platforms: You will learn how to create social media profiles that are optimized for your brand and engage in conversations with your followers. You will also be taught about different engagement tactics such as retweets, mentions, hashtags, and conversations.
5. Measuring Performance: Finally, you will learn how to measure the performance of your SMO efforts using metrics such as reach, impressions, clicks, shares, and more. You will also be given tips on how to identify what works and what doesn't so that you can optimize your SMO strategy over time.
Is SMO Training Course worth investing in the year 2023?
Social media optimization (SMO) is an essential part of digital marketing and is becoming increasingly important as more businesses embrace social media as a marketing channel. The aim of SMO is to generate traffic and leads from social networks such as Facebook, Twitter, LinkedIn and YouTube.
A SMO training course can help businesses maximize their reach on these platforms. Training courses provide valuable information on how to optimize content, optimize advertising campaigns, increase engagement, monitor social media performance and measure the success of the campaigns.
The benefits of investing in a SMO training course are numerous. It can help businesses gain an advantage over competitors and increase their visibility on social media. With the right strategies in place, businesses can build relationships with their customers and prospects and create more effective campaigns. Additionally, businesses can save time and money as they become more familiar with the platform and understand how to maximize their use of it.
In the year 2023, it is expected that SMO will be even more important for businesses that wish to remain competitive. With the emergence of new trends and technologies such as artificial intelligence (AI), machine learning and predictive analytics, businesses will need to stay ahead of the curve in order to maximize their potential. Therefore, investing in a SMO training course can be beneficial for those who want to keep up with the changing landscape of digital marketing.
Overall, investing in a SMO training course is worth considering for businesses looking to maximize their potential and stay ahead of the competition in the year 2023. With the right strategies in place, businesses can build relationships with their customers, increase visibility on social media and save time and money while still achieving their goals.
Similar Read: Top SEO Trends Every Student Should Know in 2023
Why should you go for reputed training institutes for SMO course?
A trusted training institute can help you in many ways like:
Advanced Tactics & Strategies: Throughout the course, you will have access to advanced tactics and strategies that experienced professionals use to ensure success with their social media optimization efforts.
Strategic Advice: Additionally, experienced professionals leading the SMO training course may provide specific advice tailored to your unique needs. They will offer actionable insights on best practices, new trends, and upcoming technologies related to SMO that could give you an edge over competitors.
Networking Opportunities: Learning from a professional instructor gives you access to other professionals in the field who could potentially serve as valuable networking contacts in the future. These networking opportunities can open doors to new opportunities that may prove invaluable for your career or business.
Cost-Effective Option: Compared to many traditional learning formats such as seminars, webinars, and conferences, a SMO training course can prove cost-effective in the long-run. The courses are usually available online meaning you don't have to worry about travel expenses.
Flexible Timings: Online courses generally come with flexible timings allowing students to complete them at their own pace and convenience. Most online courses offer 24/7 support meaning students can get guidance whenever they need it.
Learn At Your Own Pace: With online courses, there is no need to rush through lessons; students can take as much time as they need to absorb the material covered in the course. The online environment also allows students to refer back to previously learned material whenever they need a refresher. All these advantages make investing in a SMO training course worthwhile in the year 2023.
Similar Read: Top SEO Trends Every Student Should Know in 2023
Which is the best institute for SMO training in India?
If you are looking for the best institute for SMO training in India, then you should definitely consider Internet Scholars. They have been offering top-notch training courses in Social Media Optimization (SMO) since 2017.
The trainers at Internet Scholars have a combined experience of more than 20 years in digital marketing and SMO, and they use their expertise to equip students with the latest industry trends and techniques. The courses are comprehensive, covering all aspects of SMO, from content creation to analytics and reporting.
The institute also offers a range of online courses for those who want to learn about SMO without having to step out of the comfort of their homes. The online modules offer interactive sessions and tutorials that enable students to gain knowledge at their own pace.
Internet Scholars is committed to helping its students grow and succeed in the field of SMO. Their experienced trainers and comprehensive courses ensure that every student has the best chance of becoming an SMO expert. So, if you want to be a part of this ever-growing industry and become an expert, then Internet Scholars is the best institute for SMO training in India.
Helpful Topic: Tips to make your Content Strategy go from Good to Great
Conclusion
SMO training course is worth investing in the year 2023. With the help of a quality SMO training course, you will be able to increase your digital marketing skills and stand out from the competition. It can help you develop better strategies for your business and enhance the reach of your content.
As the demand for digital marketers increases, it is essential to have the right skills and training to meet the requirements of the market. There are various institutes that offer quality SMO training courses in India. Make sure you do your research before enrolling in one and invest in a course that can help you become a successful digital marketer.